This is dedicated to my "otha family" 
The Grabel's 
– Always in my heart
I remember when I was younger, Chilli Mac Recipe with cornbread was one of those wonderful comforting meals that my mom would make at the beginning of the week and would serve as leftovers for two more days. I think I can remember my first impression of it actually. I thought that it was weird that chilli had noodles in it. But I loved it more than regular chilli ( I probably still do). But this is a great meal to eat on the weekends and to even have for football and tailgating parties.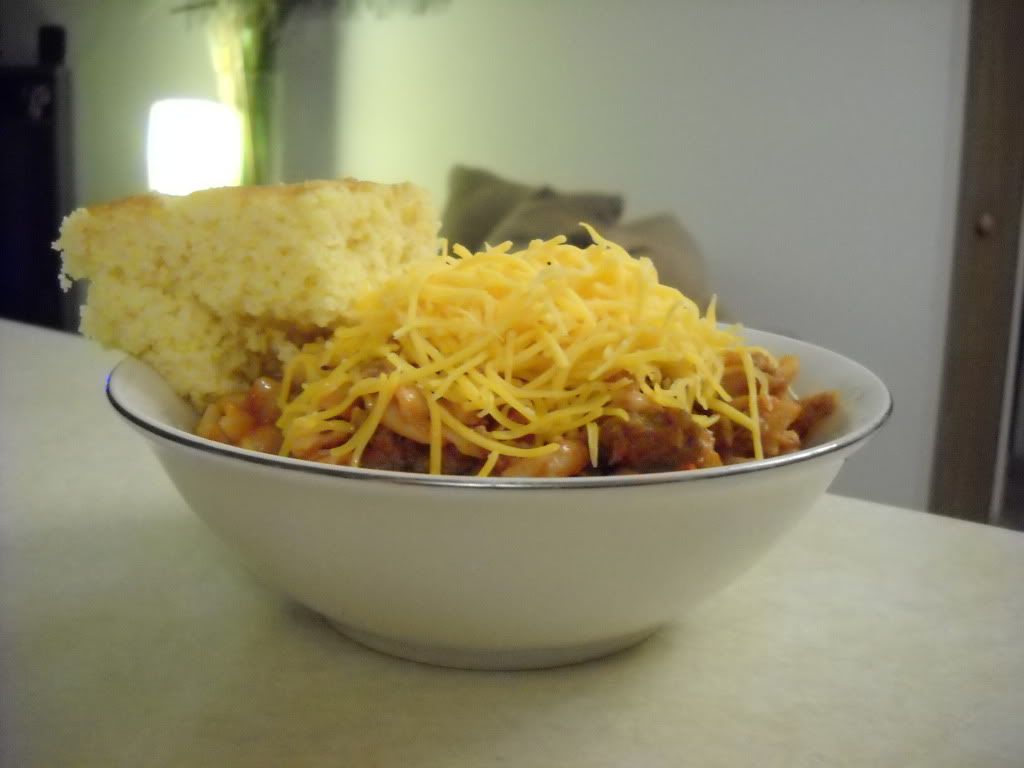 Now there is one ingredient that I could have used but I chose not to. That was beans. Some people do put  beans in their Mac. There is nothing wrong with it if you want to do that, I suppose. As far as the meat, I used ground beef (surprising I don't really eat red meat) and andouille sausage. I was actually a bit disappointed using the sausage because it wasn't what I expected. It was still delicious, however. I guess I was expecting a smoky and flavorful sausage. So I recommend using Chorzo sausage (Mexican sausage) or diced smoked sausage. But using this recipe is good as well. Here is the basic recipe, but please feel free to add and minus things that fits your preference.
Print
1

pound ground chuck

1

pound ground andouille sausage (or another type of sausage)

2 tablespoons

olive oil

1 cup

chopped vidalia onion

1

chopped sweet red chilli pepper

1

lb. can tomato sauce

14.5 oz

. can diced tomatoes

15 oz

. can chilli beans

1.5 oz

. packet chilli seasoning

2 tablespoon

chilli powder

2 tsp

. red pepper flakes

1 tsp

. cayenne pepper
salt & pepper to taste

1

box uncooked elbow macaroni
finely shredded sharp cheddar cheese
---
Instructions
NOTE: You will need a pretty big saute pan.In a saute pan, heat up your olive oil on medium-high heat. Once your olive oil is hot, add your onions, both peppers, and saute for about 3 minutes.
Add both of your meats to the pan with your veggies. Cook until the meat is no longer red, then turn down the burner on warm. Continue to stir so your meat doesn't burn.
Fill a pot with water for your macaroni noodles. Once your water starts to simmer or boil add your macaroni and cook until finished.
NOTE: Make sure that you keep a watchful eye on the noodles and taste to make sure they are not over or undercooked.
Once your noodles are done, drain the water and place noodles back in the pot.Reserve one cup of the water from the cooked macaroni. Don't put your noodles back on the burner just yet. In fact, I wouldn't return the pot back to the same burner because you want to allow your dish to simmer on warm. Therefore, use a different burner that has not been used yet.
In the pot with the noodles, add the cup of reserved starch water, add the tomato sauce, beans, diced tomatoes, chilli packet, chilli powder, red pepper flakes, and cayenne powder. Now add your meat and sautéed veggies to the pot and stir until everything is evenly mixed. Add salt and pepper to taste.
Now place the pot back on the stove and allow to simmer for about 10-15 minutes, at least. Make sure that you keep stirring so the noodles wont burn.
When you ready to eat, top off with some finely shredded cheese. If you want, you can even add a dollop of sour cream!