I uphold the phrase, "A lady in the streets, but a freak in the sheets" (sorry mom). Meaning, I am poised, graceful, funny, friendly, and proper when it comes to being in public places (not a huge PDA person). However, when it comes to one on one time with me and my "boo" all bets and are off. I want passion, flirtation, love, and a strong sensual connection. My mindset is, for my man (wherever he is), I am willing to try just about anything once. There are two exceptions, no anal action and no orgies. Anything else, we can explore. I am woman that strongly believes that if a man is worth it, then I'm going to give it to him. That is not exclusive to just sex, that means rubbing his feet, breakfast in bed, ironing his clothes, praying for him, being his homie, watching the game with him, giving him space with his boys, going away on vacations, and a whole host of "events and practices" that I will share with only him. Basically, you give a lot, I'll give more. You don't give a fuck, I don't give two shits (Sorry mom, again. I had to curse so they will understand).
Unfortunately, there comes an inevitable time in every relationship where things can become stagnant and the fire seems to fizzle out. A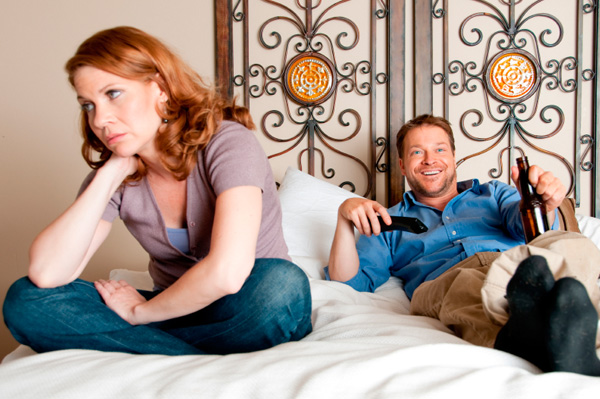 nd in my experience, it is the man that is mostly okay with this adjustment. Men, this is not okay! Laziness gets you a long life of single-hood and/or repeated unfulfilling relationships. Men, if you want to keep your woman crazy about you, I'm going to give you some ideas and tips on how to do that.  I'm going to "school" you on how to really earn the right of being called "Big Daddy".  They are easy and applicable for any guy. If you can't find it in your heart or make the time to at least try some of these ideas, then the lazy bug has found its way to your head and you might lose a good woman soon. You might also be reading this article thinking that your relationship is fine. Trust me, all women want romance and spontaneity. It may look different with each woman, but we crave it. Here we go!
1.       Rub her feet. If your woman works hard or has been busy walking in heels looking good for you all day, without asking, take her shoes off, rub her feet, and talk to her about HER. If she is at home taking care of your kids and you, you better already be doing this. For those of you who do not like feet…get over it and wash your hands afterward. A relationship can't always be about what one person likes and doesn't like. It's not about you anymore no matter how serious the relationship may be.
2.       Kiss the heck out of her. When you come home from work or you're just coming over to visit, grab her immediately and give her the most passionate and sexiest kiss EVER! Then look at her dead in her eyes and tell her,  in your Barry White tone, "I missed you", and just gaze at her for 10 seconds and give her a great bear hug. Guaranteed to drive her crazy!
3.      
Get your ass in the kitchen and cook. Have a candlelit table ready for one! For the evening, you are going to serve her. Wear something that she just finds you sexy in, wrap an apron around you, and serve her with a menu of what you are going to be preparing for her. Cook the food in front of her and ask her about her day and actually listen and respond. Don't just say things like "Word", "that's crazy", or "cool". If you don't have any ideas of what to cook, you came to the right place! Take a look at my recipes and pick a few! This will result in a few outcomes, you won't finish cooking dinner, there will be a short intermission, or once you are finished, she is going to finish you. Trust me!
4.       Fulfill her wildest fantasy. Make love to a firefighter, be arrested, be rescued by her prince charming or the dominatrix stuff, if that is what she wants, DO IT! Even if you feel it is whack, do it anyway. I'm sure that you will be glad that you did.
5.       Kiss her in public. Although I am not a huge endorser of PDA, Public Display of Affection, but if my man stopped
to give me a sweet kiss out in the open, that would make me feel very special. That tells me that he is glad that I am his woman and not afraid to show it. Hold her hand after you do this as well. Oh! And don't make it a behind-the-doors kiss.  No one wants to see a Saliva Show. Make it sweet and simple.
6.       Use social media to display your affection. I don't care too much for this. I'm not a big fan of the
 "In a Relationship" status. But, women love for men to declare their feelings for them. If the network is appropriate, put a message out there about her! Something sweet and cute. Let the world know who has your heart or attention. Or send her sweet text messages throughout the day.
7.  Be a f*cking gentleman! Seriously. If you don't take any of my other suggestions, make this a priority. Chivalry is NOT dead! No,a woman doesn't NEED you to do anything for them, but it makes them feel special when you open doors, open the car door, pull out the chair, order us a drink, walk us to our door, walk up to our door, be on time, compliment her, pay for the first date, offer your arm when walking with your date, if you are walking on a street, walk on the outside of her, and if you really like her, set a follow up date or a time where you will call her back. Geesh! This trait is definitely lacking in most men today.
8.       Give her flowers. Have her favorite flowers delivered to her for no reason at all. Mark the note, "Just because I'm thinking about you", "I miss you", or you could give her a time and place on where to meet you after work for a date. How sexy is that?
9.       Take care of your boo.  Do something for her that she normally does that she may not really like to do. For me, it would be taking out my dogs or taking them out for a walk. But it could be a variety of things such as washing dishes, cleaning the house, a load of laundry, or vacuuming. This tells her that you are paying attention and you want to give her a break.
10.   Support her. Just like men, women also get defeated as well.  In addition to making sure she has a successful relationship, she also wants to be successful. Whatever that is, support it. I don't mean tell her that you support whatever she wants to, look up resources for her, suggest goals for her, or work on a project with her. If she wants to get in better shape, eat healthier, mend old relationships, collaborate with her on that journey and provide resources, but let her come up with her own solution. Just support whatever that solution is. Very sexy!
At the end of the day you can do whatever you want to do. But whatever you do, just make sure that she feels special and the only one. If you make her happy, she will make sure that you are treated like a king! Don't miss out on a good thing because you are lazy or don't understand the emotions of a woman. I made it clear, men and women will never understand each other in some ways, but that shouldn't stop you from making her happy. Get out of your own way or you will look back on it and regret the decision that you made. That is also a guarantee.