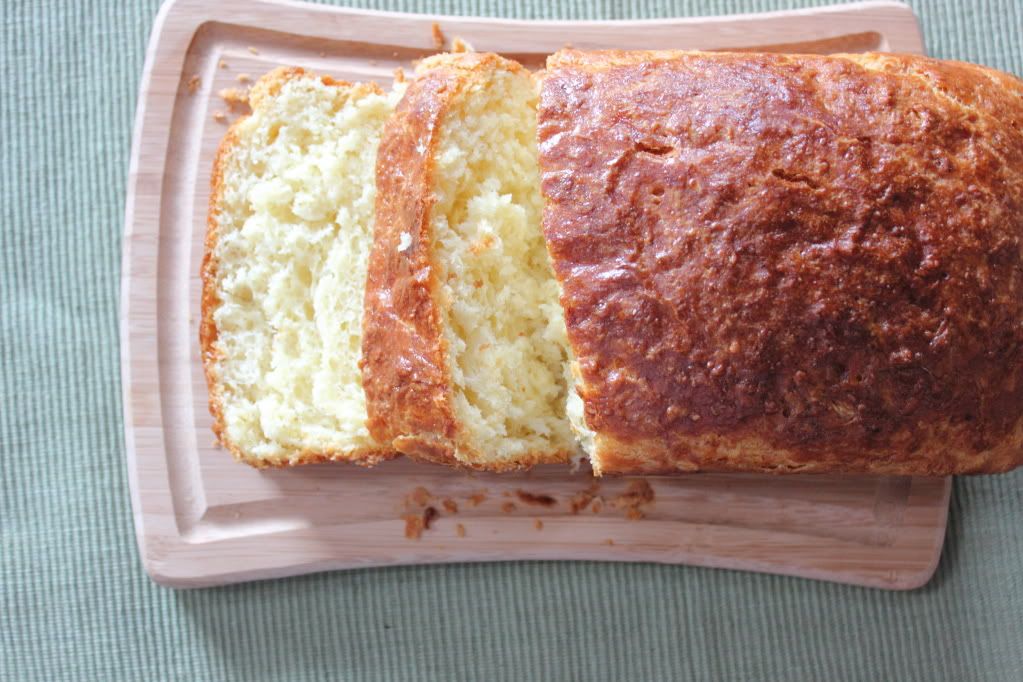 The last time I made some sort of bread from scratch that involved an overnight process was when I made homemade croissants. They turned out good but they were a pain to make. So much so, I was cursing myself and Martha Stewart out the entire time. I couldn't believe the amount of time that went into making French pastry. But for some reason, I wanted to make brioche bread; knowing that it also had an overnight process that I wasn't looking forward to. However, to my surprise, it was fairly simple and didn't have a high maintenance process like croissants do.
I actually never had brioche bread before but what motivated me to make this bread was seeing it used in several recipes involving dessert and breakfast foods. Therefore, it peaked my curiosity. Once I made it and tasted the bread it became clear to me why this bread was used in various sweeter dishes. It tastes like croissant bread! It is so flaky and buttery it makes no sense. All you need is some sweet churned butter and you have another pound in your rear section that you have to work off my friends. Make this bread as a compliment to your mom on Mother's Day and you won't go wrong!

Print
1/2 c. bread flour
2 tsp. instant yeast
½ c. lukewarm milk
5 large eggs, slightly beaten
3 c. bread flour
2 tbsp. sugar
1 ¼ tsp. salt
3 sticks unsalted butter, room temperature
1 egg, whisked until foamy
---
Instructions
In the bowl of an electric blender, or the bowl that you will use to blend the reminder of the ingredients, add the ½ c. bread flour, 2 tsp. instant yeast, and lukewarm milk. Whisk all the ingredients together until they are well incorporated. Cover with plastic wrap and allow to sit for 30 minutes to allow to ferment. This part of the bread is considered to be your sponge.
Add the eggs to the sponge and whisk until smooth. In a separate bowl, add the 3 cups of bread flour, 2 tbsp. sugar, and 1 ¼ tsp. salt. Blend in the dry ingredients with the sponge and egg mixture. One all of the ingredients are well incorporated, allow to sit for 5 minutes as is in the bowl to allow the gluten to develop. Once the 5 minutes is over, on medium speed, begin to add the butter by quarters. Continue to blend until all butter is well incorporated. The dough will be very clingy and seem somewhat sticky.
Line a sheet pan with parchment paper and use spray with spray oil. Transfer the dough to the sheet and use a wooden spoon to spread evenly across the sheet the dough will be very smooth. Spread out the dough until it is transformed into a rectangular shape measuring to about 6 inches by 8 inches. Mist the top with spray oil. Cover with plastic wrap and place in the refrigerator overnight or at least for 4 hours.
Remove the dough while it is still very cold. Lightly flour the surface and your hands. Remove the dough for the sheet and turn to the lightly floured surface. Knead the dough 6 to 8 times and mold into a big ball. Divide the ball of dough into halves.
Take a 9 inch by 5 inch loaf pan and grease it or spray it with flour baking spray. Take one half of your dough and mold it into the loaf pan. Cover loosely with plastic wrap and allow to proof for 1 hour and 20 minutes. Take a heavy dish cloth and run underneath very hot water. Carefully ring out the water and place it on top of the plastic wrap with the loaf pan. This will add humidity to the dough to allow it to rise better.
Preheat the oven to 400 degrees. Take the egg wash and brush it on top of the bread and allow to sit again for another 15-20 minutes. You can perform the hot dish rag trick I mentioned before if you would like.
Place in the oven and bake for 30-35 minutes. The bread should be hollow if you thump it. Once finished baking, immediately take out of the pan and turn to a cooling rack and allow to cool for an hour.