I am sucker for some good Potato Skins. I love mine loaded with sharp cheddar cheese, bacon, lettuce, sour cream and chives. Well last year when I got serious about losing weight and feeling great, I had a small dinner party with some girlfriends of mine. I made baked chicken, a nice salad, and potato skins. The potato skins that I made weren't the unhealthy, heart stopping ones that I mentioned before. In fact, I had to figure out what to put in them. That is when the masterpiece came! I had some spinach, a couple of tomatoes, and some feta cheese in my fridge and I thought that would make a perfect combination as a filling to the skins. They were a huge hit! My friends loved them because they were satisfying, comforting, yet healthy.
These babies can be served as a meal or as a side dish.  I call them boats because I used the one pound potatoes. You know? The big long ones. Those are the kind of potatoes that you are going to need to make these. I made them again for you to try at your next tailgate party or group gathering. Let me know how you like them!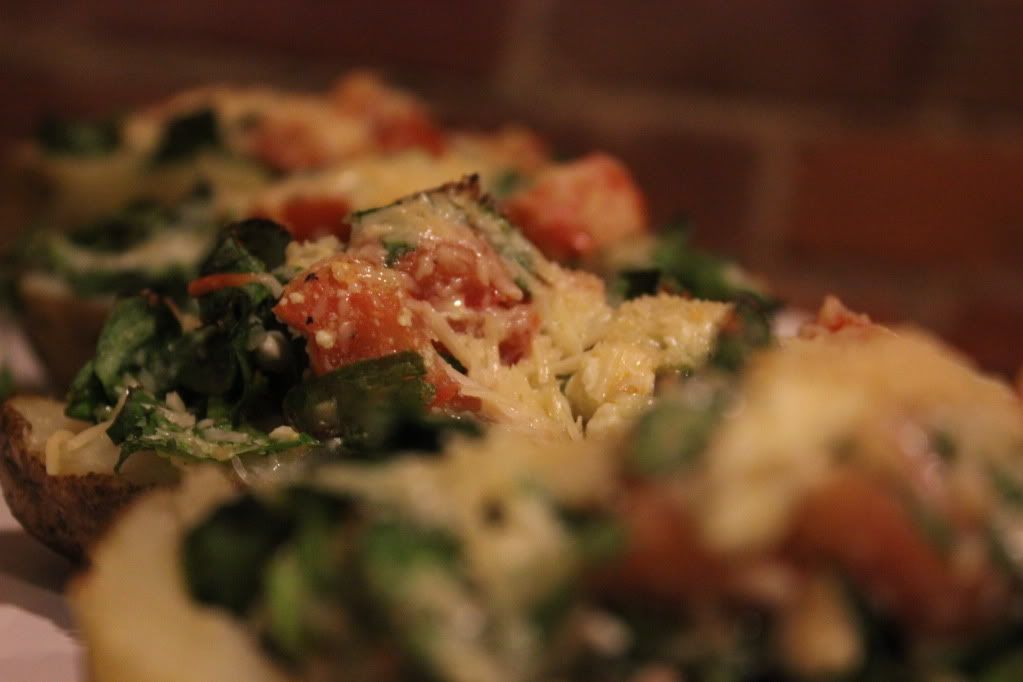 Print
Italian Potato Skin Boats
---
4–1 lb. potatoes
3 c. fresh chopped spinach
½ c. fresh chopped cilantro
3 medium size tomatoes diced
2 tbsp. minced garlic
Salt and pepper to taste
Olive oil for drizzling
1 tbsp. dried Italian seasoning
8 oz. feta cheese
Parmesan cheese for topping
Chopped prosciutto (optional)
---
Instructions
Preheat the oven to 400 degrees
Take the potatoes and rub them with olive oil and salt, then place them on a baking sheet. Insert the potatoes in the oven on the lowest rack and allow to cook for about an hour or until done. Turn the potatoes every 15 minutes to make sure that they cook thoroughly throughout.
Once the potatoes are done, take them out of the oven and allow them to cool. This can take about 30 minutes.
While the potatoes are cooling down, in a medium size bowl, add your chopped spinach, cilantro, diced tomatoes, and feta cheese and drizzle with olive oil. Do not use canned diced tomatoes or the frozen chopped spinach. It will not taste the same and it make not cook as well because of the added moisture.
Turn to your potatoes and cut them in halves. With a spoon, scoop out the middle of the potato leaving a deep insert for the filling. You can save the middle part of the potatoes for mashed potatoes or some other potato dish.
Begin to fill the potatoes with the spinach mixture and top with Parmesan cheese to your liking. If you are choosing to add the chopped prosciutto then you may add that in this step as well. Bake for 15 minutes on the top rack. Once they are finished baking, enjoy!