Italian food is soul food to me. It is wonderful food with the flavors of garlic, tomatoes, butter, basil, and the different types of cheeses. Ahh can't you feel the pounds just adding on? I know I can. In fact, one of my favorite restaurants is Maggiano's Little Italy. If you have never been there, you should make it a priority and go. My favorite Italian dish is…..all of them. Except Tiramisu. Can you believe it?! I am not that big of a fan of Tiramisu. I am not sure what it is, it just doesn't do it for me. In fact, anything or most things with Italian Cream isn't my favorite thing.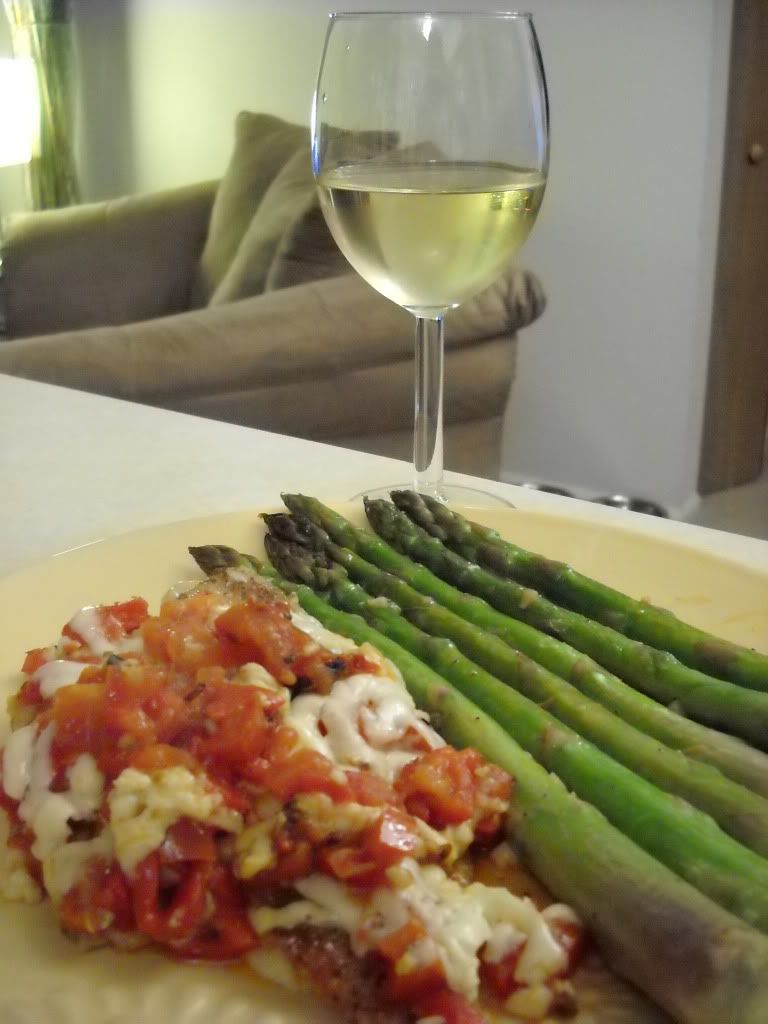 In any case, I really enjoy making Italian food and I really wanted to make an easy authentic Italian dish. I don't have cable and now and then I can catch her show on PBS. Do you know who I am talking about? I'm talking about Lidia Bastianich! She has her own show called Lidia's Italy. It is awesome. She makes wonderful authentic Italian food. If you want to make something quick and easy, I recommend making the Chicken Trombino. It is simple and wonderful. I made it with a side of sautéd asparagus. Oh, and did I mention I had a nice glass of wine along with it? If you like sweet and sparkly, you should try Scagliola Moscato d'Asti. It is awesome!
Print
4

6 to 8-ounce boneless, skinless chicken breasts

1½ teaspoons

kosher salt
All-purpose flour, for dredging

2 tablespoons

extra-virgin olive oil

4

plum tomatoes ( I used Roma tomatoes), seeded and diced

8

-ounce jar roasted red peppers, drained and sliced

1 teaspoon

dried oregano

1 cup

grated provola cheese aka provolone (not the kind you put on sandwiches)

2 tablespoons

unsalted butter

2

fresh basil leaves
---
Instructions
Cut each chicken breast on a bias with a sharp chef's knife, making two slices out of each breast. Season chicken with 1/2 teaspoon salt.
Spread flour on a rimmed plate, then dredge chicken in flour and tap off excess. Melt the butter and the oil in a large skillet over medium heat. When the butter melts, add the chicken and cook until browned on one side, about 2 minutes.
Flip the pieces, and brown the other side, about 2 minutes more.
Begin to dice your tomatoes and red bell peppers.
When the chicken is browned, pour the tomatoes, roasted peppers, oregano, and remaining 1 teaspoon salt into skillet.
Bring to a simmer, and cook until the separate ingredients come together as a sauce, about 5 minutes.
Sprinkle the dish with the provola and shredded basil. Cover the skillet, and simmer just until the cheese melts and the chicken is cooked through, about 2 minutes more.
Serve asparagus and/or pasta. Oh! And don't forget to have a glass of your favorite wine!