HERE IS ANOTHER OLDIE BUT GOODIE!!!
Let me tell you something about me…I LOVE ROOT BEER. I mean, I could live off of it and be happy. There is nothing like a cold rootbeer with some really good piping hot pizza. Sometimes I really think to myself, "Self, how in the world do you make all of this stuff and you're not as big as a house"?  I do not have an answer to that to be honest with you. I love making good food. I said that to say, that this recipe enters the danger zone of high sugar and incredible goodness. But life is too short to count the grams of sugar, carbs, and calories all the time, right? I would say that my diet consist of 85% of healthy choices and 15% of sinful pleasures. In fact, the food that I cook that is "bad" is only for the blog. And when I make things like this I take them to work or have friends over. I can't waste food, but I can't keep it either. But I also work out 5 times a week.
Hmmmm….sugar (in my Homer Simpson voice)
Anyway, I wanted to figure out a way to make something different incorporating root beer on a plate. So I tossed around the idea of brownies and root beer, root beer pound cake, root beer cookies, and the list goes on. But I don't know if you have ever had blondies. If not, "You are slacking on your pimpin". Try them! They are wonderful. They are like brownies without the chocolate. That is the best way I can describe it. Also, there is a pleasant surprise to the dish that I was not expecting. That is pouring a bit of root beer on top of the blondie and ice cream with caramel drizzled on top. It is like this wonderful balance of butter, sugar, root beer, and the taste  was explosive! Okay, I'm done. Let me know what you think!
One last thing, since I am really starting out with this cooking
thing, my blondies came out slightly flat because I opened the oven too soon and put a toothpick to check if they were're done, and they deflated a bit. They were still good. But lesson learned!
This recipe is adapted from the Food Network. I added my own spin on them obviously.
Rootbeer Float Blondies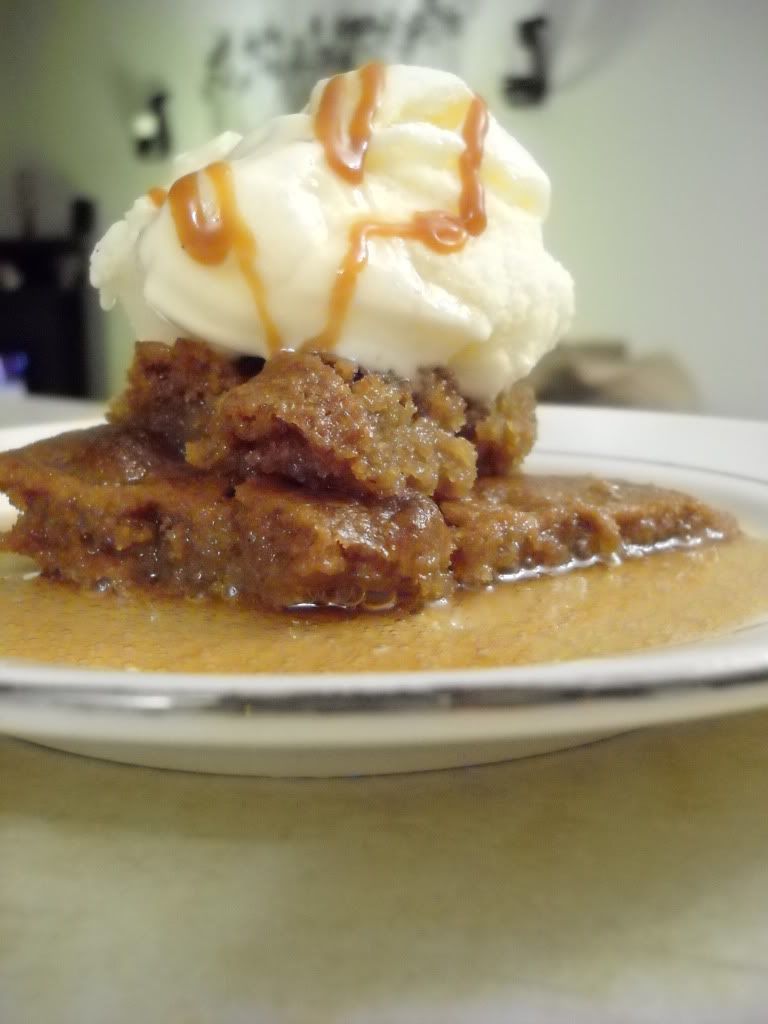 Print
1 1/2 cups

packed brown sugar (light)

2

sticks unsalted butter

2 1/4 cups

all-purpose flour

3/4 tablespoon

baking soda

1/2 teaspoon

salt

2

large eggs

1 teaspoon

vanilla extract

1 teaspoon

root beer extract

2/3 cups

toffee pieces
a can or bottle of root beer
---
Instructions
Preheat oven to 375 degrees: Put the sugar in a large bowl. Melt the butter in a small skillet or in the microwave in a glass measuring cup. Stir the butter into the sugar until smooth, cool to room temperature.
In a separate bowl, whisk together all dry ingredients (flour, baking soda, & salt).
Beat the eggs and vanilla and root beer extracts into the sugar mixture. Add the flour mixture a bit at a time and mix until a smooth thick batter forms. Fold in the chips, as desired.
Spoon the batter to the prepared dish and spread to evenly fill the dish. Bake until the blondies are light brown around the edges and a toothpick inserted in the center comes out clean, about 20 to 25 minutes.
Once finished, allow the blondies to cool. When ready to serve, cut into squares.
Place a square on plate. Top with vanilla ice cream, drizzle with caramel sauce, and pour about 1/4 cup of rootbeer over the ice cream and enjoy!