So I think I have developed a thing for bridal showers. I made two different types of cupcakes for a small bridal shower that we had for two ladies at my job and I am planning one for two of my close friends who are getting married in April. Let me tell you, I have never been more excited about anything in my life within these past few years. I really like the strawberry flavor in cakes, but I'm not crazy about them in tarts or pies. I wonder why that is. I definitely recommend using strawberry extract. It will enhance the flavor. I really love this small pastry company's ingredients called Bakers Kitchen (if you are in the Cincinnati, OH area you can find their goods at Jungle Jims)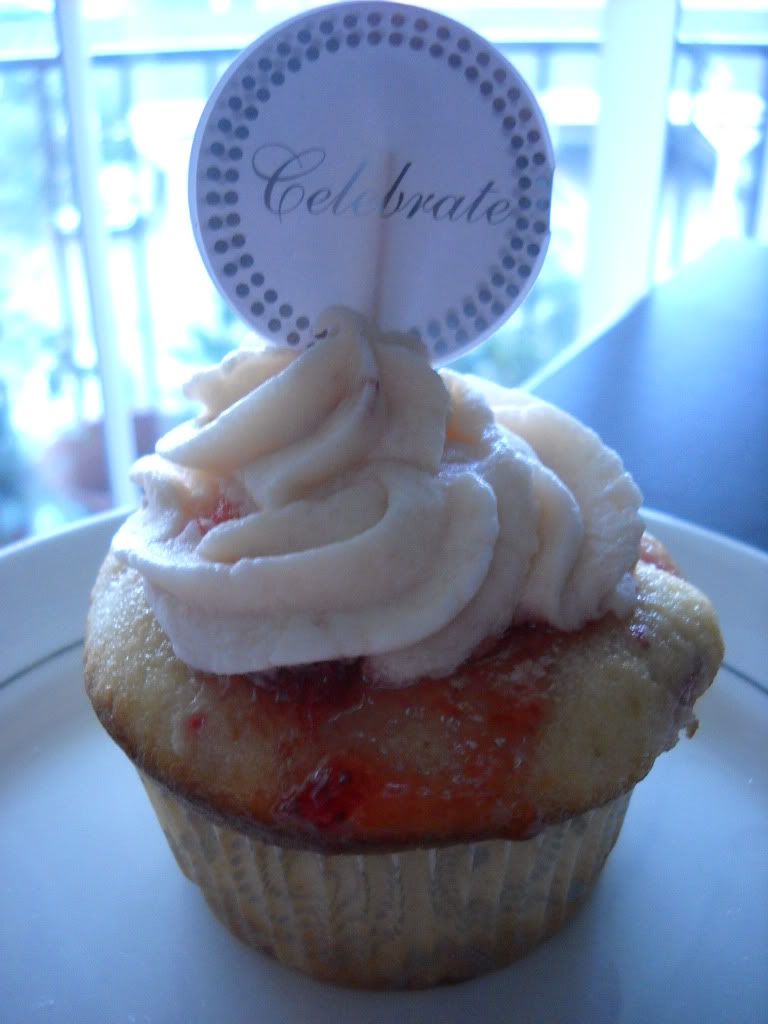 As most of you food bloggers know, it would take a second job to buy all of the cool pans, extracts, spatulas, appliances, and culinary torches. But whenever I have some extra money, I definitely invest in some wonderful ingredients or cookware. I recommend using their stuff. It is really awesome! I recommend that you make it your life's mission to collect different extracts because you never know when they can come in handy and what you can do with them. I know this strawberry extract is going to last me forever but at least I will always have it.
Now back  to the cupcakes, enough jibber jabber, here is the recipe. I really hope that you enjoy them.
Print
Strawberry Buttercream Cupcakes
---
2 ¾ cups

all-purpose flour

½ cup

cake flour (not self-rising)

1 tablespoon

baking powder

1 teaspoon

salt

2

sticks butter (unsalted)

2 ¼ cups

sugar

3

large eggs

1

large egg white

1

large cup milk

1 ½ teaspoon

vanilla extract

1 teaspoon

strawberry extract

2 cups

finely cut strawberries
strawberry ice cream topping
FOR ICING

2

sticks unsalted butter

5 ½ cups

powdered sugar

1 tbsp

. milk

1 teaspoon

vanilla extract

2 teaspoons

strawberry extract
garnish with chopped strawberries
---
Instructions
Preheat oven to 350 Degrees and line your cupcake pan with the cupcake liners of your choice.
In a large bowl, whisk together all dry ingredients and set aside.
Cream butter and sugar until fluffy. Afterwards, add each egg one at a time and then the egg white. Make sure you beat each one into the batter before adding the next one.
Add the remaining wet ingredients and once all wet ingredients are incorporated, slowly add the dry ingredients into the batter (add strawberries last).
Fill your cupcake liners 2/3 of the way and bake for 15-20 minutes.
Allow your cupcakes to completely cool before applying the icing.
For Icing: Beat the butter until creamy and add the powdered sugar a cup at a time. Add the milk and extracts. Take a spoonful of the strawberry ice cream topping and spoon on top of the cupcakes and then pipe the icing on top.