You can consider me a city girl with a country woman's cooking style and heart.  Let me explain to you what that means. I am a girl who loves everything about the city: the noises, the atmosphere, the people, the night life, I love it all; but I am also a girl who loves  the hospitality, the love, the simplicity, and the food ,as bad for you as it may be, of the south. I love it! Out of many of my favorite country rooted dishes, no country dish is complete without good buttermilk biscuits. Would you agree? So as I am preparing for Thanksgiving by researching different variations of side dishes and desserts that I have already learned to make on my own, I started to think about baking chocolates that I could use in my chocolate cake that I make every year, deciding if I should use smoked andouille sausage for my stuffing or wondering if I should try Chorizo sausage instead, assessing the cost of my baked macaroni and cheese, I thought about how awesome it would be to make buttermilk biscuits with fruit and accompanied with fruit butter! So I said to myself, "Self, why not add strawberries to the biscuits and add strawberries to the butter (which I learned how to make myself, butter that is)"?
Now, as most of you foodies know, when it comes to making breads, dough, biscuits, and cookies there is a blueprint already in place that over the years people have adapted and created things like Chocolate Chip Cookies, Blueberry Muffins, Scones, Red Lobsters Cheddar Bay biscuits, etc. I too have taken that blueprint of an ordinary biscuit and added my flare to them. These biscuits are perfect to make for a brunch, breakfast, or just to enjoy with your loved ones. Let me tell you, I made these and I had another brief conversation with myself and I said, "Self, you are the man"! I hope that you enjoy them as much I enjoyed eating them.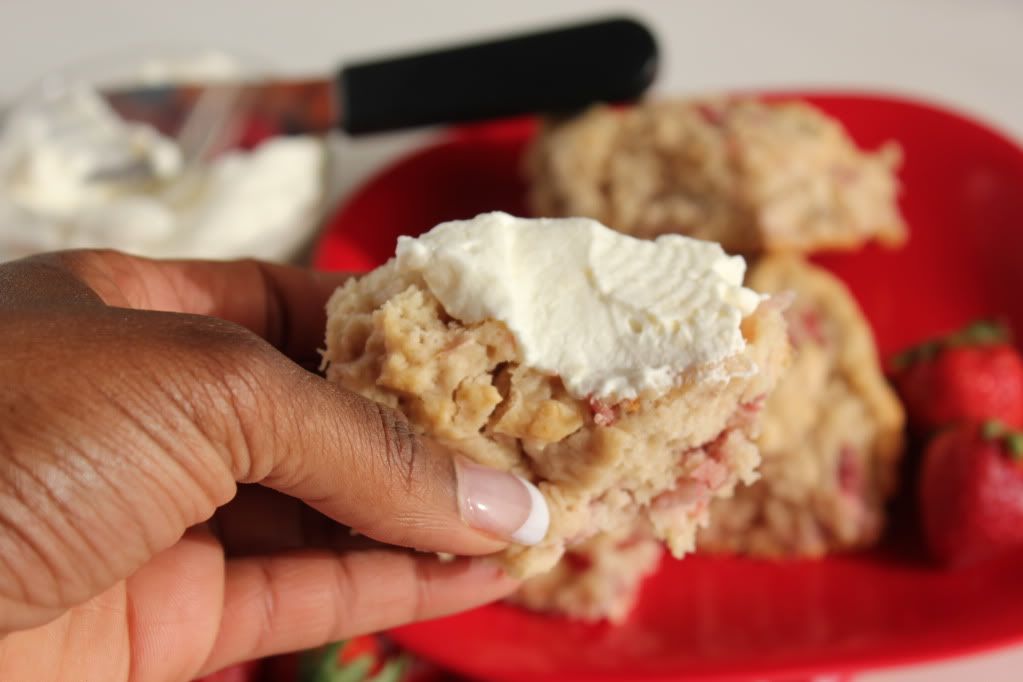 Now the butter…..
I was so happy when I learned to make homemade butter. Once I have figured out how to make butter, I felt that my possibilities were endless. Making the butter is very easy, but to give you a step by step visual, I will refer you to a blog that had the pictures that helped me.
http://www.thehungrymouse.com/2010/03/22/homemade-butter/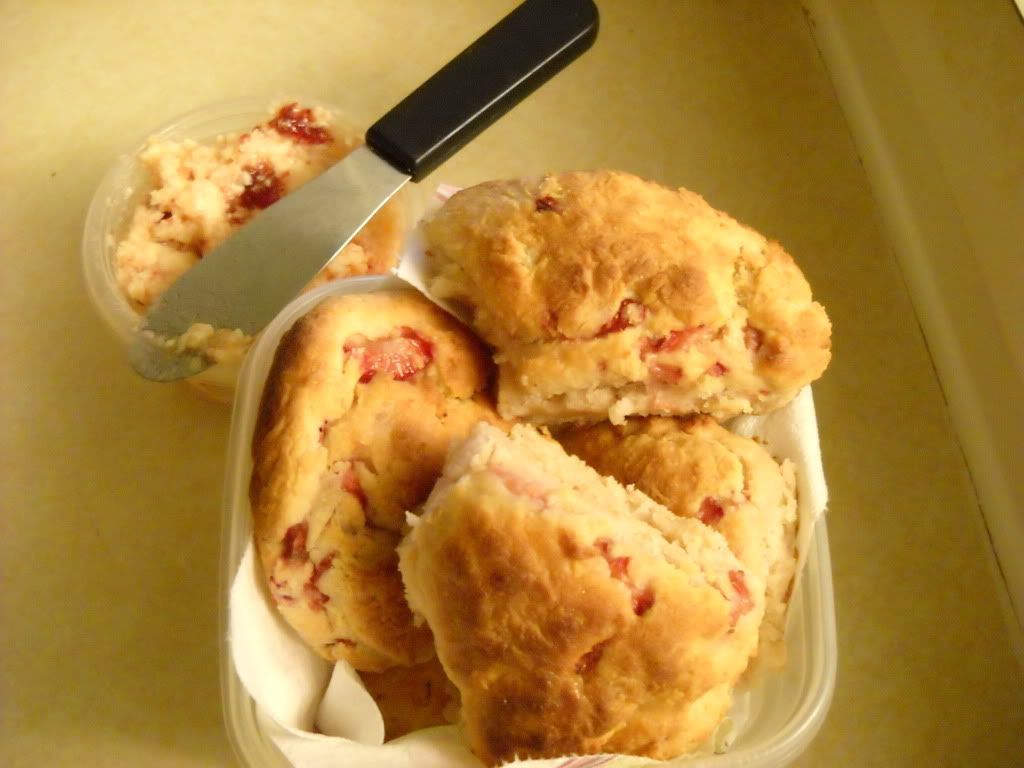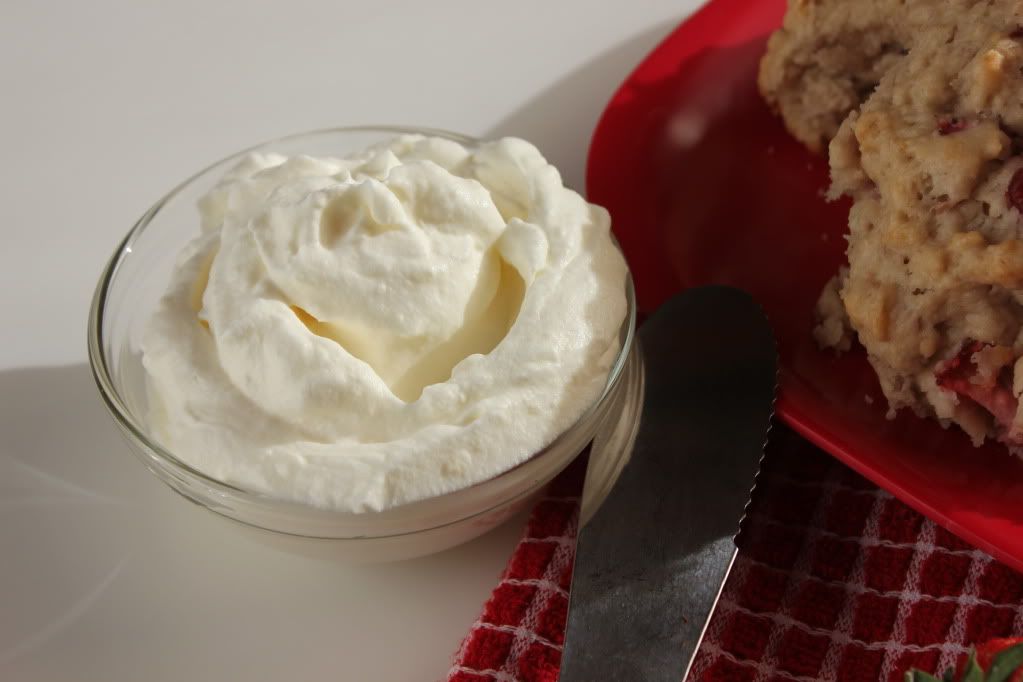 Print
Homemade Strawberry Biscuits w/Homemade Strawberry Butter
---
INGREDIENTS FOR BISCUITS

2 cups

of all-purpose flour

1/2 teaspoon

baking soda

2 teaspoon

baking powder

1 teaspoon

salt

2 tablespoon

sugar

1

stick unsalted butter (cold)

3/4 cup

buttermilk

1 cup

diced strawberries
honey for drizzling
INGREDIENTS FOR HOMEMADE BUTTER

2 cups

of heavy cream

1/8 cup

powdered sugar

2

table spoons strawberry preserves
INGREDIENTS FOR HOMEMADE CREAM

2

c. heavy cream

1

stick unsalted butter, room temperature

1

c. sugar

1 tsp

. strawberry or raspberry extract
---
Instructions
INSTRUCTIONS FOR BISCUITS
Preheat oven to 475 degrees.
In a large bowl, sift all of your dry ingredients (flour, salt, sugar, baking powder, baking soda).
Cut in the cold stick of butter and with your hands or with a pastry blender, blend your butter and flour together. It will start to look like bigger grains of sand.
Once the flour and butter is kneaded well together, pour the milk in the middle of the bowl while the flour surrounds it. Also add your diced strawberries in the middle.
Take one hand and begin to stir in the flour with the milk and strawberries until it is all mixed well together.
Take your ball of dough and turn it to a lightly floured surface and begin to knead but don't overdo it.
Now there are a couple of ways you can do this next part (creating the biscuits). 1. Once you have kneaded your dough on the surface, you can take a biscuit cutter and cut out rounds of dough that is anywhere between 1/2 to 3/4 inches thick or 2) you can lightly flour your hands and take pieces of the dough and roll them into a ball. Either way, once you have chosen your method, place them in a round pan or a cookie sheet close together and place them in the freezer for 20 minutes.
Now that your dough has been frozen, place the pan in the oven and bake for 12-15 minutes.
Once your biscuits are complete, butter them immediately and drizzle with honey.
INSTRUCTIONS FOR BUTTER
Simply add all ingredients in a mixing bowl and follow the instructions outlined in the blog that I provided a hyperlink for.
INSTRUCTIONS FOR CREAM
With your hand held mixer or standing mixer, cream the butter. You want the butter to be as creamy as possible. Add the cream while continue mixing. Begin to pour in the sugar and the extract. The cream will begin to stiffen. This should take anywhere from 7-10 minutes. Once you have stiff peaks, you're done! Spread some of that onto the biscuit and enjoy!