My Jamabalya Recipe. Mmm…mmm…mmm.
By now, you all know that I can cook. I don't mean just being able to make cupcakes and appetizers. I mean, I can really throw down. The food that I cook is easy, comforting, and will go straight to your thighs and ass if you let it. I'm sure that my friends can vouch for that statement. My love for cooking comes from my love of laughter and making people happy. Eating some good grub and being surrounded by your closest family and friends can cure the worst day in world. So can my jambalaya.
This is my  jambalaya recipe. Traditionally, jambalaya has chicken, sausage, and shrimp. Well mine has two different sausages, bacon, chicken, and shrimp. It is mighty hearty and very comforting. The longer you cook food, the better. I cooked this dish on the stove for about 45 minutes and ate it with some cornbread and I was in fat ass heaven. This meal is great for dinner parties, tailgating parties, or a nice dinner for two.  However, it is a little spicy but not too overwhelming. Enjoy!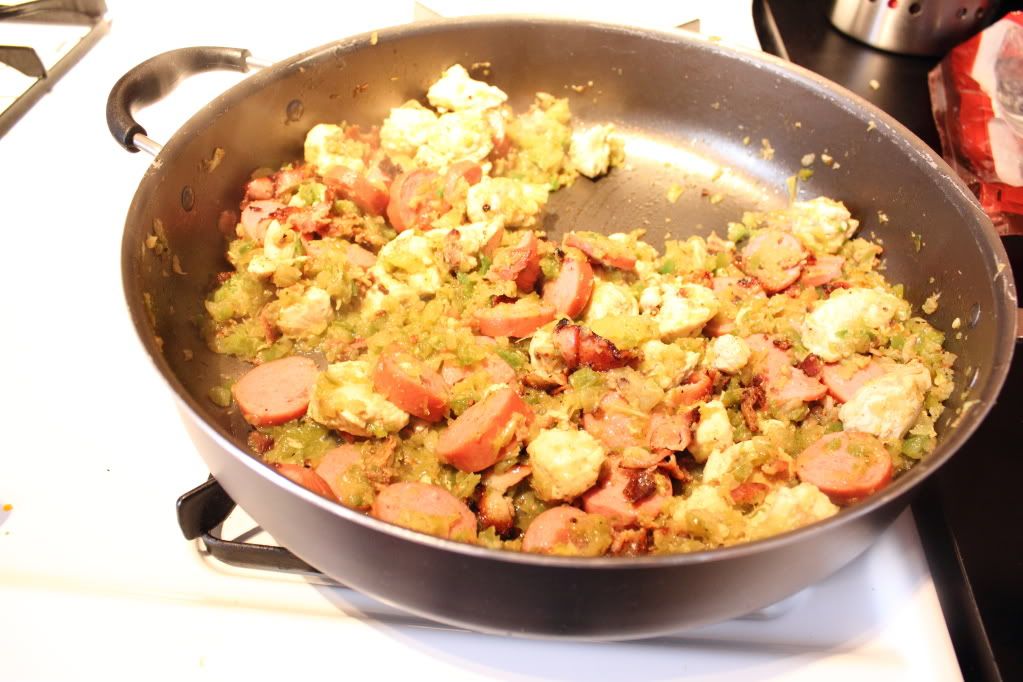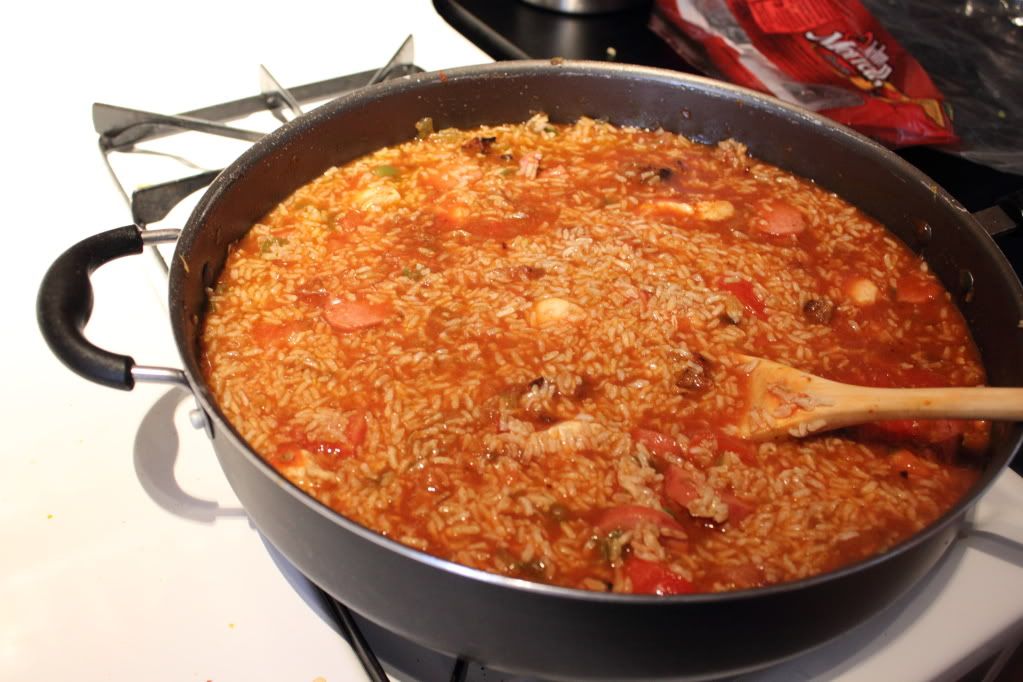 Bon Appetite (in my Julia Child voice)!
12

deveined, peeled, shrimp

2

large chicken breast, chopped

6.5 oz

. chopped smoked sausage

8 oz

. chorizo sausage, chopped

6

pieces bacon, cooked and chopped (reserve the bacon fat)

¼

. c. bacon grease

2. tbsp

. olive oil

1

medium onion, chopped

½

c. celery, chopped

2 tbsp

. garlic, chopped

¼

c. green bell pepper, chopped

1

medium sized tomato, chopped

1

15 oz. can tomato sauce

3

bay leaves

1 tbsp

. Worcestershire sauce

1 tbsp

. creole seasoning

1 tbsp

. paprika

1 tbsp

. cayenne pepper

1 tbsp

. onion powder

¾

c. rice

1 ½

c. chicken stock
Salt and pepper
---
Instructions
In a large sauce pan, heat olive oil on medium high heat and add the onion, celery, and bell pepper and cook for 3 minutes. Once you have cooked the veggies down add the bacon grease from your cooked bacon. Then add the bacon, smoked sausage, chorizo sausage, and chicken breast. Season with salt and pepper. Allow to cook until the meat is cooked thoroughly for about 5-10 minutes.
Once the meat is cooked, add the tomatoes and can of tomato sauce. Add the Worcestershire sauce, creole seasoning, paprika, cayenne pepper, onion powder, 3/4 c. rice, and chicken stock. Stir all the ingredients together and cover pot with lid. Allow to cook for 20-25 minutes or until rice is cooked. Add the shrimp and cook for 10 minutes. Season with salt and pepper to taste.