So, I have decided that every week I will search the food blogoshpere and find the sexiest dishes to share with you. What I am looking for are recipes and photos of dishes that make my heart sing and make me think of "Sexual Healing" by Marvin Gaye. The main things that I am looking for are dishes that have an ingredient that is considered and aphrodisiac, perfect for date night, or looks like food porn. I decided with my first "Sexiest Dishes of the Week" to pay homage to those food bloggers that have mentored me, shared with me tips, featured me on their blogs, and who have been great food blogging friends since I have decided to start blogging. If you are one of those bloggers and you are reading this, let me tell you that you have been very inspirational to me and I hope to be like you someday. You make my heart sing and my belly full of your love.
Click on the picture for the recipe
Sprinkle Bakes: Chocolate Cupcakes with Flaming Strawberries
I came across this recipe some months ago and my first reactions was simply, "Wow!" If this cupcake does not look like the sexiest thing you have ever seen I don't know what is. I mean….LOOK AT IT! Does it not look simply amazing?! First of all chocolate and strawberry is a wonderful flavor combination in any form, but adding the flame to this is simply ridiculous (in a good way). The photo itself even looks amazing,. It is very, very sexy. I want to make a bunch of these and light them all over my loft. I think I just gave someone an idea.
Sweetapolita: Asparagus Cake
This woman has been in my life longer than she even knows. I think her blog is simply amazing! She does wonderful things to flour, eggs, and sugar. The craftsmanship of her dishes are simply incredible. This cake is being featured because asparagus is an aphrodisiac and…. just look at it! This cake looks delectable. If you don't like vegetables, I am sure that you will convince yourself that this cake counts towards your daily vegetable servings.
 Pinch of Yum: Maple Vanilla Almond Clusters
I found this blog when it was featured on Tasty Kitchen some months ago. I fell in love with this blog because Lindsay shares with us how she generates income from her blog and its sources. Her husband also has a hand in the blog and gives us a monthly report of traffic and new resources that he has found that has brought POY more traffic. This recipe is sexy because of the almonds, which is another aphrodisiac. Maybe I'll make these and feed them to my boo right before things get frisky. Ha! Just kidding. I don't have a boo.
How Sweet It Is: Fudgy Avocado Brownies
Yes. Yes. Yes. I know what you are thinking about this recipe. You are thinking "What the heck? Avocado's and Brownies?" Trust me, I was thinking the same thing. No. I have not tried them yet but I trust the owner of this food blog. She comes up with the most creative recipes that I have ever seen. Jessica is a genius. I am more than positive that you will find something creative and yummy.
Kevin & Amanda: Ultimate Chocolate Chip Cookie & Oreo Bar
I know. Your thought about this picture is my sentiments exactly. "What is that and where can I get it, right?" Kevin & Amanda's blog is full of great traveling adventures, recipes, cute pictures of their dog, and yummy recipes. They take some of the best food photographs that I have seen. Heck, they take some of the best pictures that I have ever seen period. I am a huge fan and I will be making this soon! Chocolate is another aphrodisiac. But this picture is sexy looking enough.
Check out the rest of these sexy recipes!!!
The Duo Dishes: Goat Cheese Covered Figs with Balsamic Glaze
Brown Eyed Baker: Banana Cupcakes with Vanilla Pastry Cream
The Boys Club: Thai Bomber Martini
 Carnal Dish: Lazy Lemon and Vanilla Bean Pancakes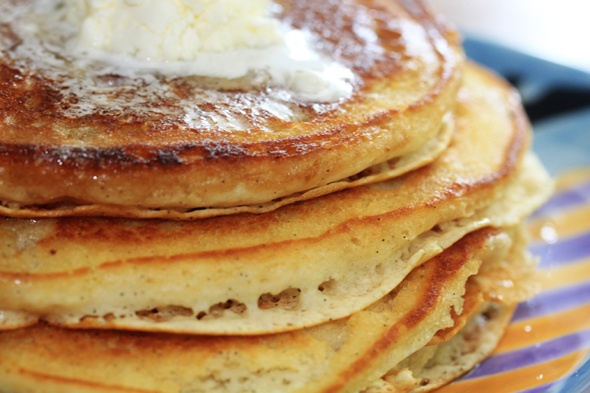 Limn and Lovely: Oyster Cake