Rice Krispie Treat Popcorn
I don't know where this stuff comes from. Who thinks of making Rice krispie Treat Popcorn? I don't know, but I did and it was fantastic! Nice combination of sweet and salty (and I love just about anything that has a sweet and salty combination) and marshmallowy. Wait, have you ever tried to make rice krispie treats and just eat them out of the pot? Yum Yum! I do that when I feel depressed or just feel like binging for no good reason. I can't do that often because I would look like rice krispie treat. Man it's hard to be a good cook like me. Oh well, your next movie night with your boo, try this treat and let me know what you think!
Ingredients
10 oz. bag of marshmallow
4 tbsp. butter
6 c. Rice Krispie cereal
15 c. hot air popcorn
5 oz. marshmallow (half of a bag)
2 tbsp. butter
1 c. salted peanuts (optional)
Colored sprinkles (optional)
Directions
1. In a large pot, melt the butter on medium heat. As soon as the butter has melted add the bag of marshmallows and stir until melted. It is important to continuously stir so that the marshmallows don't burn or stick too much to the pot.
2. Now that the marshmallow is melted, begin to add the rice krispie treats. Stir until the marshmallow and rice krispie are combined. In a greased 1.7 quart rectangular dish or 11X17 inch cookie sheet, pour the rice krispie treats and with the back of a spoon or rubber spatula push down until evenly spread. Allow to cool for 15-20 minutes.
3. In hot air popcorn popper, pour in about 3 tablespoons of popcorn kernels. This should give you 15 cups of hot air popcorn. If you do not have a popcorn popper, you can do it the old fashioned way and make the popcorn on the stove.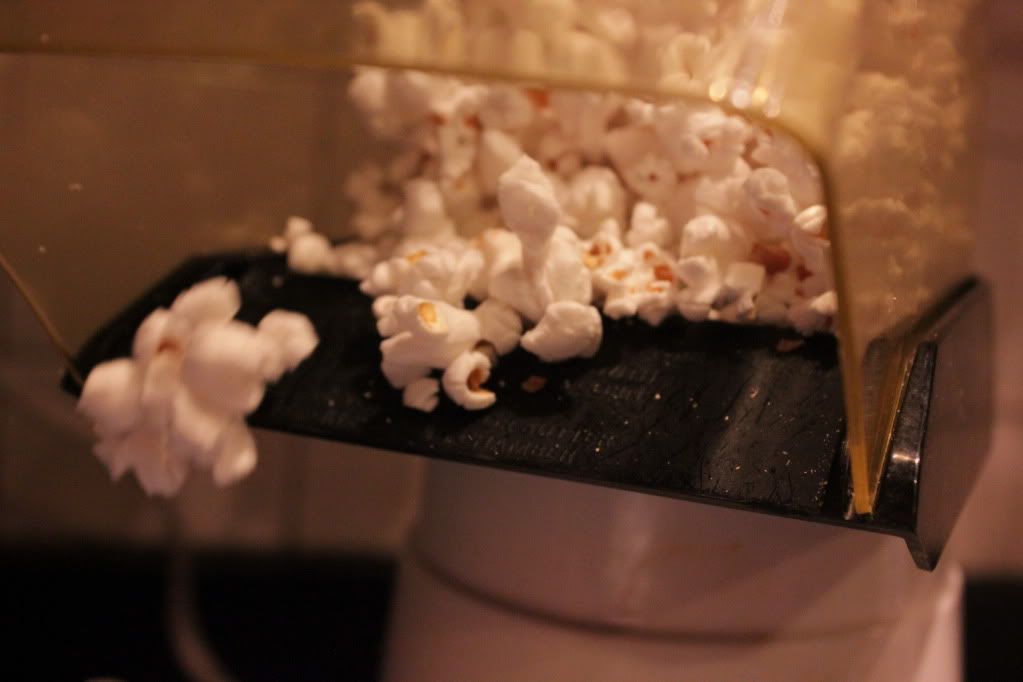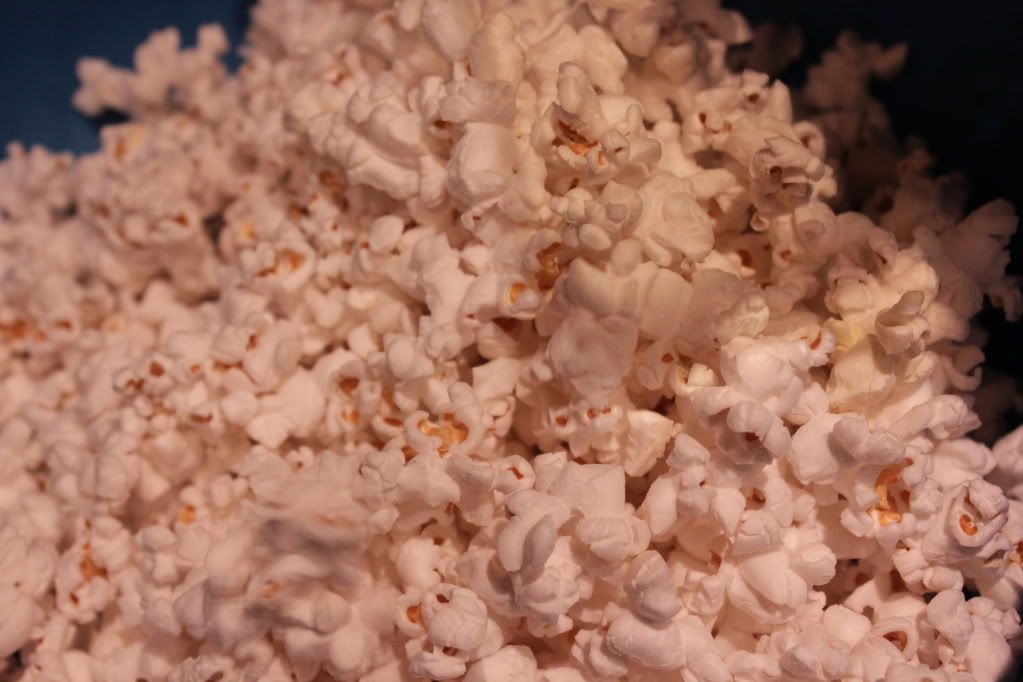 4. In a large bowl, place your popcorn inside. Take the rice krispie treats and begin to take small pieces and add them to the popcorn. You don't have to use the whole pan of rice krispie treats but Ill leave that up to you.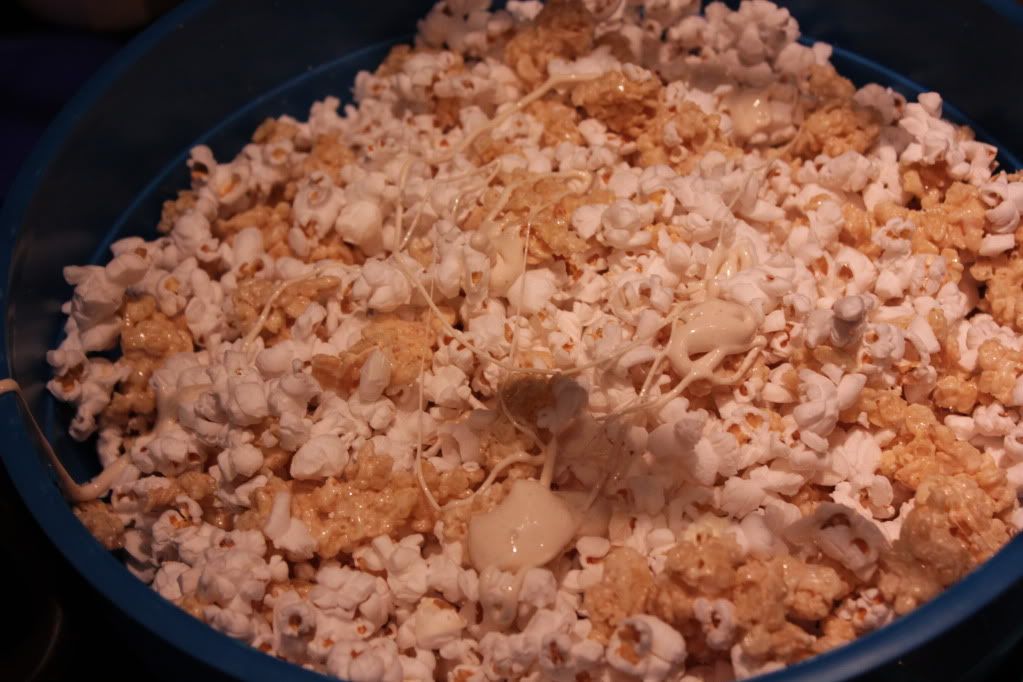 5. Melt the other 5 ounces of marshmallows in a small pot the same way you did in step 1. Once the marshmallows are melted, begin to pour in the melted marshmallows and slowly add the salty peanuts, if you would like. Use your hands to make sure that the marshmallows are evenly coated on the popcorn. Everything will begin to stick together and may seem like one big popcorn ball, which you could make them that way as well, but that is okay.
6. Once all the melted marshmallow is added and mixed throughout the popcorn and rice krispie mixture add your sprinkles to make it look colorful and happy!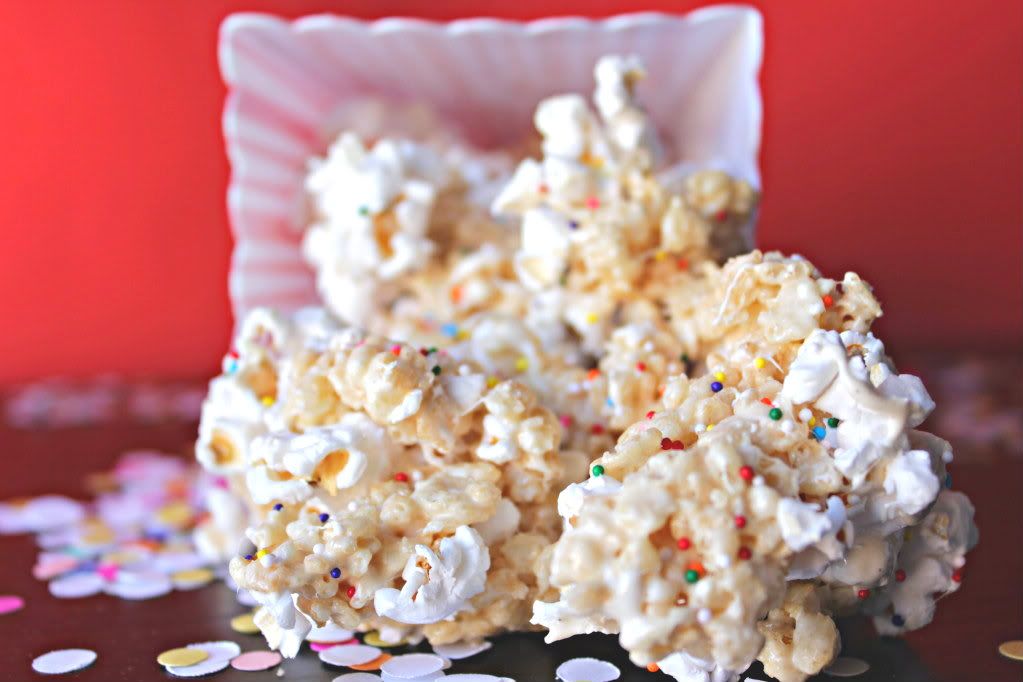 Enjoy the popcorn! Watch a movie!