So, if you have followed me on this blog for a while or if you know me personally, you probably already know that I am not a fan of French Toast. But here is the weird thing, I like French Toast sticks. Love them, actually. I think its because regular French Toast can sometime be a bit eggy and not to mention, there is a scene from Road Trip that doesn't help either. Nevertheless, I am always enthused about coming up with different ways to make French Toast or to even try it. I figured that one day my children are going to want me to make Blueberry French Toast for them and I don't want to give them a reason not to like based upon my weirdness. My children mustn't be weird.
I thought that maybe I am missing the mark with how to prepare the French inspired toast. Maybe I should use bread that is good in flavor and that is pretty dense where it isn't too eggy. Right? Well that is what I did. I made an easy blueberry quick bread and used that as my bread for the french toast.  I also made homemade blueberry sauce with it. Not syrup people, sauce. The recipe to this sauce can be used for parfaits, sundaes, and other dishes. If you are planning on making this dish, although it is quite easy, it does take some time. But it is well worth it!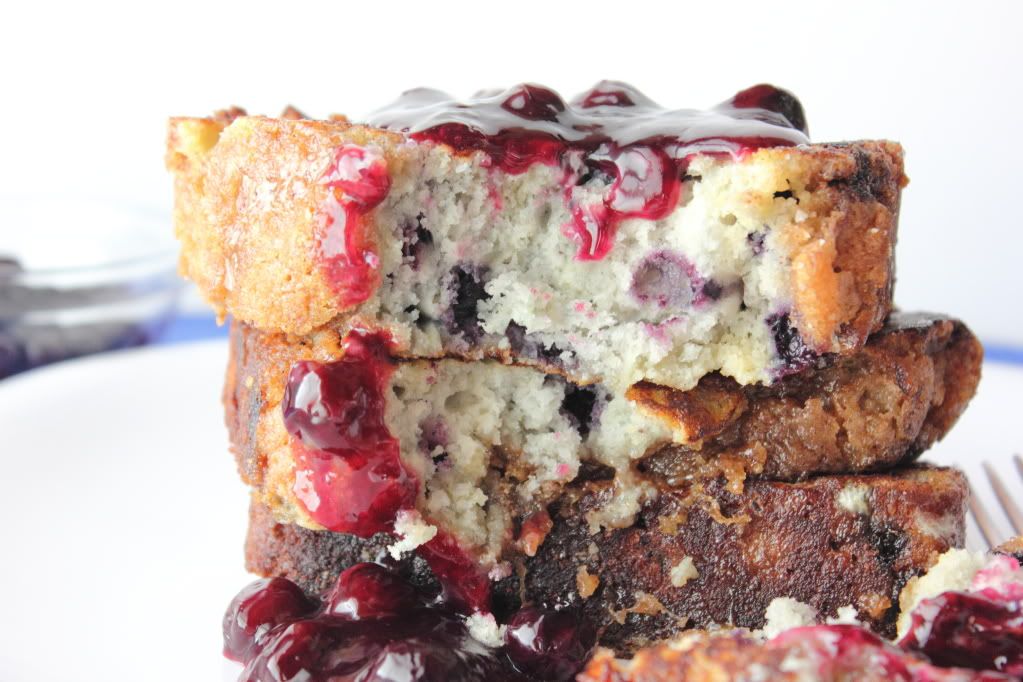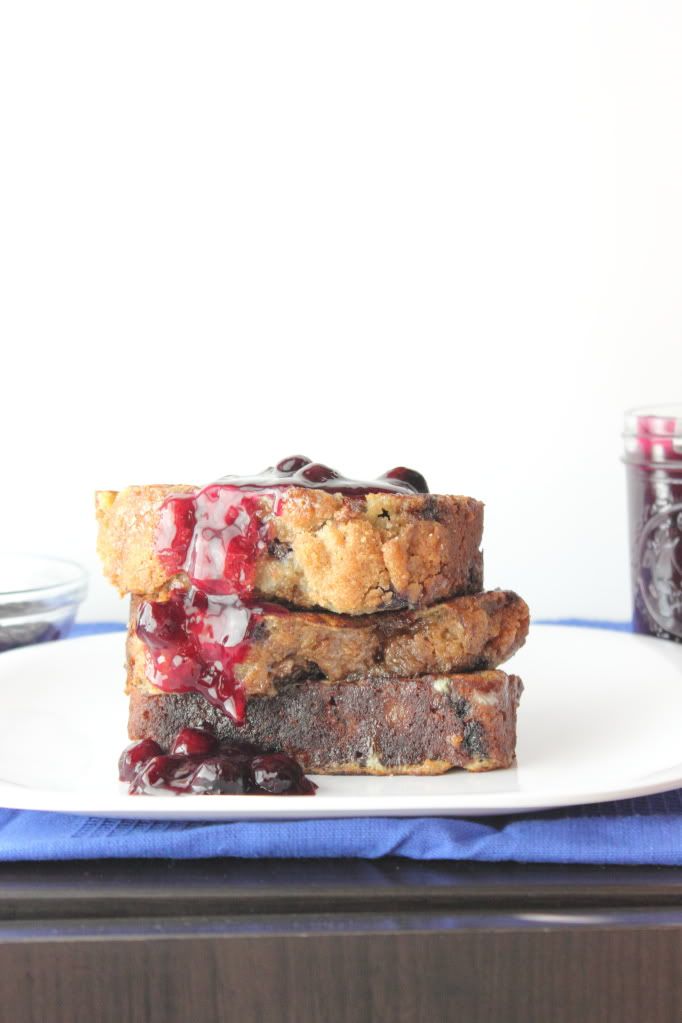 FOR BREAD

1 ½

c. all-purpose flour

¾

c. sugar

½ tsp

. salt

2 tsp

. baking powder

1/3

c. oil

1

egg

2/3

c. milk

1

c. fresh or frozen blueberries (If you use frozen drain some of the juice).
FOR TOPPING

1/2 cup

brown sugar

1/3 cup

all-purpose flour

1/4 cup

cold butter, cubed

1 1/2 teaspoons

ground cinnamon
FOR SYRUP

2

c. fresh blueberries

¼

c. water

1

c. orange juice

¾

c. sugar

¼

c. cold water

3 tbsp

. cornstarch

1 tsp

. vanilla extract
FOR TOAST COATING

3

eggs

½

c. milk

¼

c. sugar
Dash cinnamon
---
Instructions
For Bread:
Preheat oven to 350 degree
In a large bowl, combine the flour, sugar, salt, and baking powder. Whisk together so that the ingredients are mixed well. Mix in the oil, egg, and milk in a small bowl and pour that mixture into the dry ingredients. Using a hand mixer, mix all the ingredients together. Fold in the blueberries with a rubber spatula. Pour the bread dough mixture in an 8 ½ X 3 inch rectangular loaf pan.
Now let's make the topping. In a small bowl combine the brown sugar, flour, cold butter, and cinnamon. Mix with a fork and sprinkle on top of the bread mixture. Baked for 25-30 minutes.
When finished allow to completely cool before cooking as French toast.
For Syrup:
In a medium sauce pan, combine blueberries, water, orange juice, and sugar. Bring that to a slight boil. In a small bowl combine the cold water, cornstarch, and vanilla extract and mix thoroughly. Add the corn starch mixture to the blueberry mixture and it will begin to thicken. Turn off the oven and allow continuing to stir.
For French Toast:
Whisk together the eggs, milk, sugar, and cinnamon. Cut pieces of the blueberry bread and take one piece and dip in the egg wash on both sides. Don't let the bread to soak up much of the egg mixture. In a small pan or griddle, add 1 tablespoon of butter and allow it to melt. Take the piece of French toast and place in the small pan and cook for 3 minutes on both sides or until cooked to preferred liking.
When finished, pour some of the blueberry syrup and enjoy!