I love warm tropical climates. That is the only time I do not mind summer heat. I love the way the sun feels on my back and the breeze the sweeps through my body. It is the best time that I enjoy being outdoors. So far, the best place that I love to visit to receive this type of weather is Mexico. I have been there twice! When I think of being in a tropical environment I think of Pina Coladas, crystal clear blue water, the sounds of waves, the smell of seaweed (gross), and good food. Man, I think I just talked myself into planning another trip.
While I am inspired by the beach I was also inspired to make a tropical dessert. A lemon butter pound cake with tropical fruit compote is what my inspiration developed into. What I love about the compote are the big chunks of mango, kiwi, and that flavor of vanilla to bring it all together. It really does taste like the beach. Also, this is something fairly simple that you can make any time of year. You can also add toasted coconut if you would like. I omitted the coconut because I am not a big fan. The pound cake recipe was adapted from Paula Deen's pound cake recipe I just add my spin to it. I hope that you enjoy!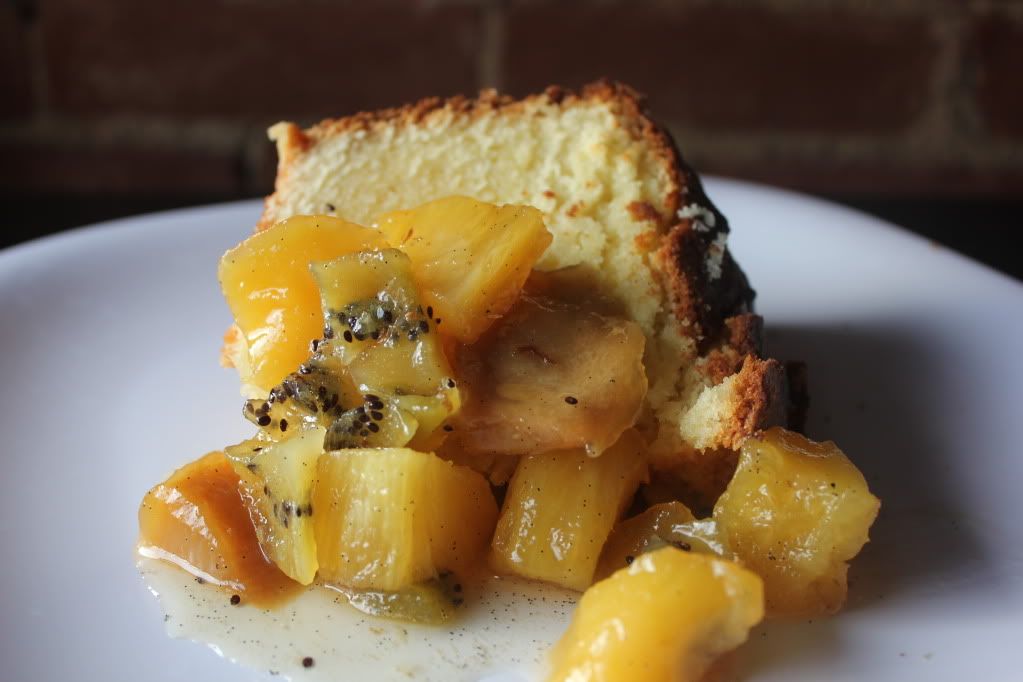 Print
Lemon Butter Pound Cake w/ Tropical Fruit Compote
---
Ingredients Pound Cake

2

sticks unsalted butter, extra for pan

½ cup

vegetable shortening

3 cups

sugar

5

eggs

3

c all-purpose flour, more for pan

½ tsp

baking powder

1 cup

milk

1 tsp

vanilla extract

½ tsp

coconut extract

½ tsp

lemon extract
Ingredients for Compote

1 ½

c water

1 cup

sugar

1

vanilla bean

2

fresh mangos, cut and cubed

2

c fresh pineapple, cut and cubed

2

fresh kiwi, cut and cubed
Garnish- Toasted coconut flakes (optional)
---
Instructions
Preheat oven to 350 Degrees
With a mixer, cream butter and shortening together. Add sugar, a little at a time. Add eggs, 1 at a time, beating after each addition. Stir dry ingredients together in a bowl and add to mixer alternately with milk. Mix in the extracts. Pour into a greased and floured bunt or angel cake pan for 45 minutes to an hour, until a toothpick comes out clean. Allow to cool for 15 minutes and remove from pan. Turn to cooling rack to allow to cool.
To make compote, add the water, sugar, vanilla bean and fruit and bring a slight simmer in a medium sauce pan. Allow to simmer for 15-20 minutes. Fruit mixture will become thick. Serve on top of the pound cake.