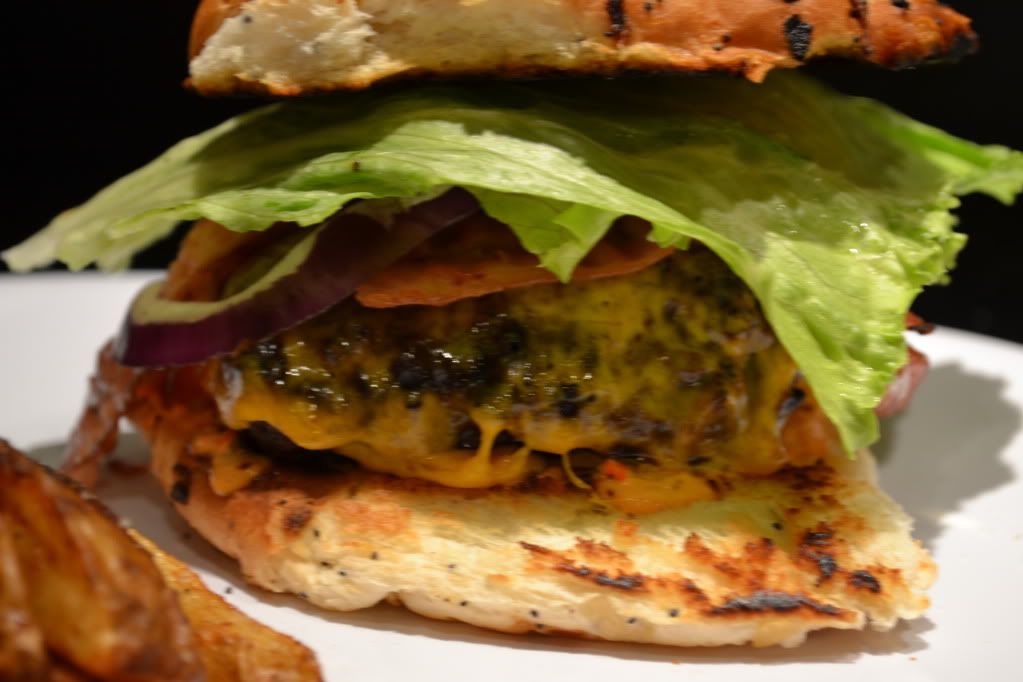 Being single has its challenges. Being a single "foodie" has even more challenges. When I get inspired and come up with new recipes that I would like to create, I have to take the food to work or host a dinner party. There isn't anything wrong with either of those options, but sometimes it would be nice to have a "boo" to cook for one on one. Well, last week I was given the opportunity to do just that.
Last week I had a very good friend of mine over for dinner and entertainment. In the process of developing a perfect meal to cook, I went through several phases of thinking what would be the most appropriate meal to make. It is no secret that I am single and although my special friend is just a friend, I didn't want to make a meal that was too formal because that might have sent a rather formal and romantic message. That was something that I didn't want to do. So I decided to make something very simple, informal, but amazing and full of flavor and send the message "I kind of like you". Please feel free to make. Let me know how your date goes. In fact, I have some rules and ideas to think about if you ever find yourself cooking for a prospective mate.
Think about the personality of the person. No need to make Tuna Tartar to impress someone who is a meat and potatoes guy or a shrimp scampi gal. Go with what you know about them but take it to the next level.
What you make and the ambiance you create sends a message. For my "friend" I made burgers fries, and that delicious Brookie that I made last week. We ate that good stuff and watched the Lions and Saints game and then ended the night with watching some comedy. Now that send the message "I'm happy you're here", "you're a good friend", and "I kind of like you, but nothing serious". Now if I made my pan seared swordfish with lemon garlic asparagus and chocolate covered strawberries or a chocolate and fruit concoction of a dessert, what type of message do you think that would have sent?
Make sure that it is something that you are confident that your date will enjoy. If you are trying something out for the first time, put that disclaimer out there when you set the date. In fact, you may not want to label it as a "date". Just invite them over so they can try out your new dish and leave it at that.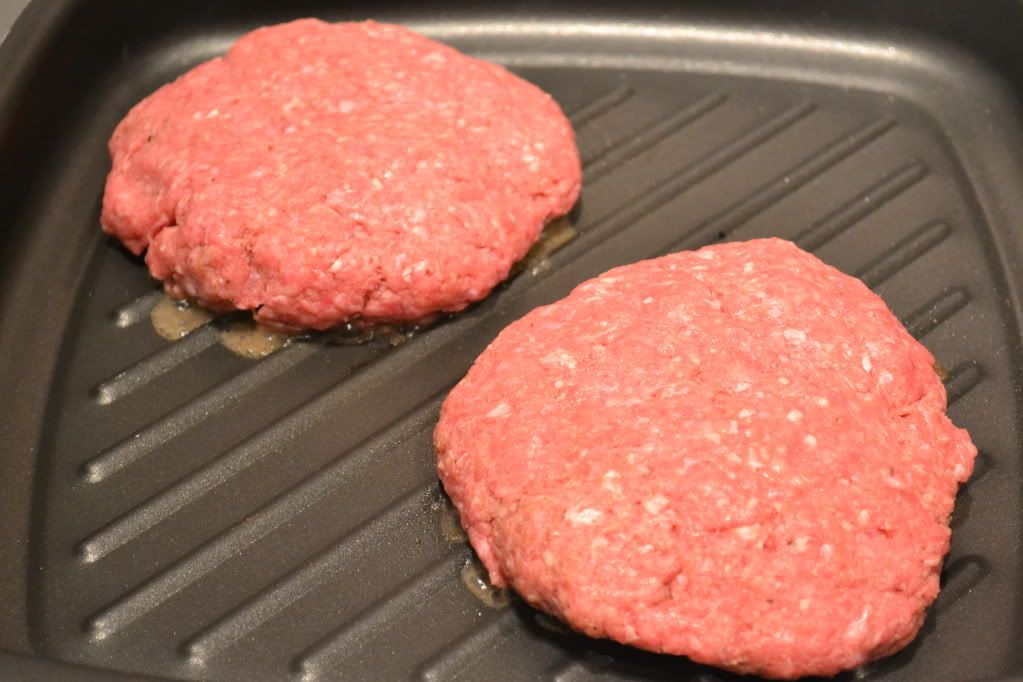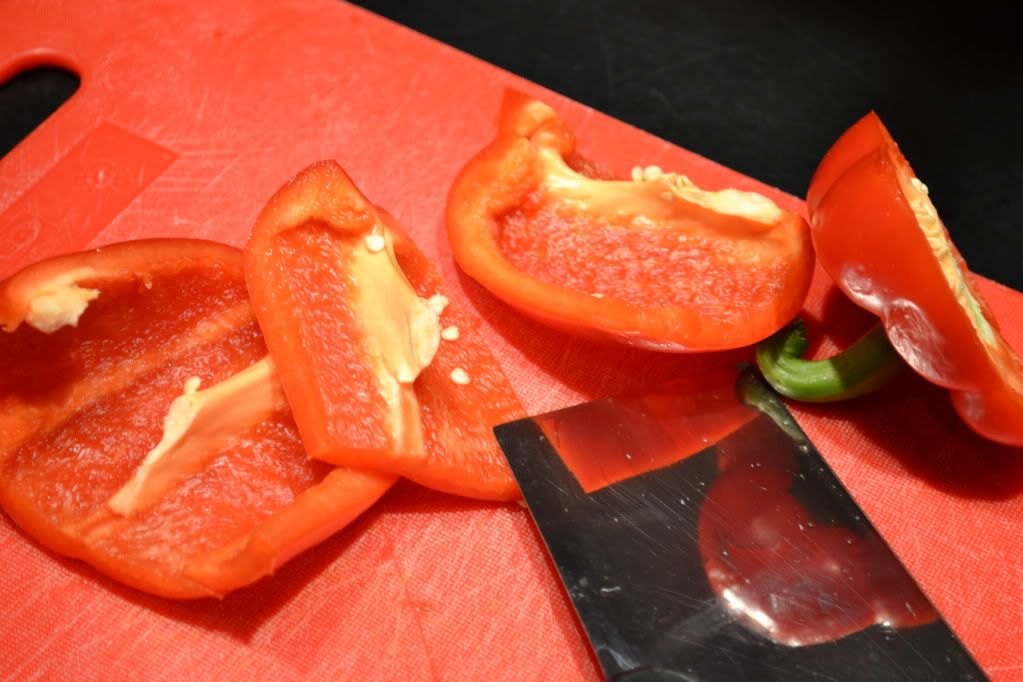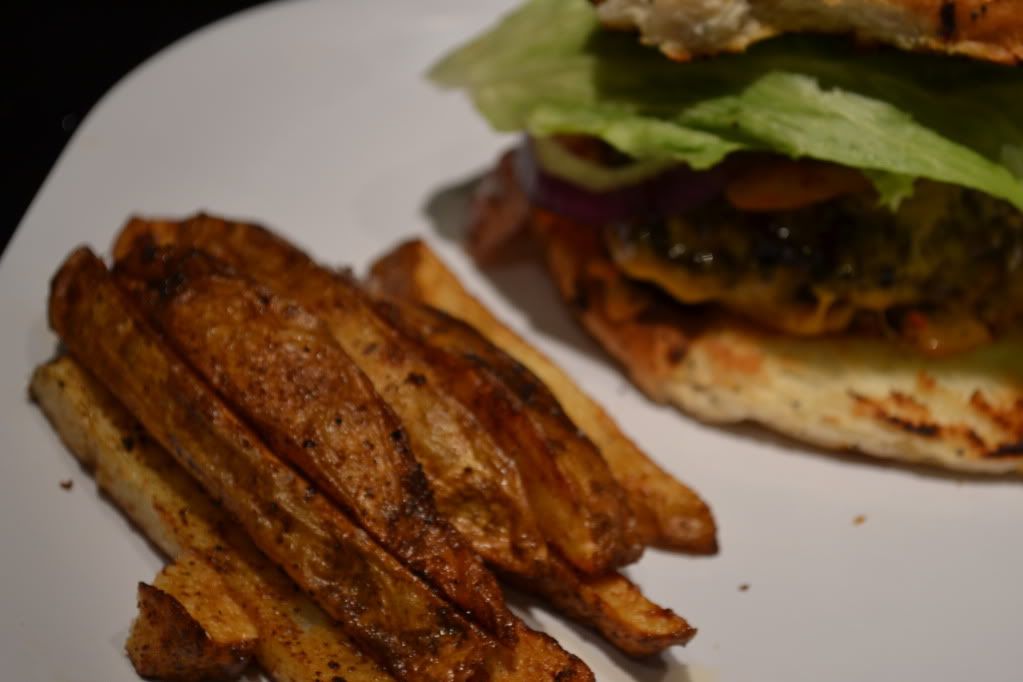 When you are ready to eat the burger, one thing I do is toast the buns. In a small sauce pan, melt about 1 tablespoon of butter and place your buns inside/down on top of the melted butter and let toast for about 2 minutes. Then add your aioli, burger, selected cheese,  bacon, red onion, tomato, lettuce, more aioli, and then the top of the burger.
That's good eatin!
Print
My Burger and Fries with Roasted Red Pepper Aioli
---
BURGER

1

lb

ground chuck

2

tblsp Worcestershire Sauce

1

tblspn soy sauce
Dashes of liquid smoke

1

diced onion chopped

1

green bell pepper chopped
Garlic Powder to taste
Onion Powder to taste
Paprika to taste
Dash of Cayenne Red Pepper
Salt and pepper to taste
Bacon (for the burger)
AIOLI INGREDIENTS

2/3

cup

mayo

2 tbsp

. olive oil

2

garlic cloves

1/2

cup

roasted red peppers (make sure you dry them off if you bought them from a jar)

1 tbsp

. crushed red pepper flakes
Salt to taste
SEASONING FOR FRIES
Garlic Powder
Onion Powder
Salt & Pepper
Paprika
Cayenne Pepper
Sprinkle of sugar
Cumin
Chili Powder

1 1/2

pints

Peanut Oil
---
Instructions
Directions for Burger
In a bowl, place your ground chuck inside and add the chopped onion and green pepper. With your hands, mix well. Then add the Worcestershire sauce, liquid smoke, and soy sauce. Again with your hands, mix well. Lastly, add all the seasonings and mix well.
Once all the ingredients are well incorporated, begin to take the amount of meat that you would like to be the size of your burgers. I made half pound burgers, so I was able to create two burgers.
You can use a George Forman grill if you are trying to cut down on the fat or if that is just your preference. Personally, I wanted the entire flavor so I used a grill pan to make my burgers and to get those grill marks on them as well.
Cook for about 6-7 minutes on each side on a medium high heat. DO NOT use your spatula to squeeze down the burger. When you do that, you are taking out the flavor. So just let them cook on their sides until they are done to your cooking preference.
Once the burgers are complete, you have to dress them. But before you put your regular mayo, ketchup, and or mustard, try this recipe for a Roasted Red Pepper Aioli that I made. So good!
Directions for Aioli: Very easy, place all ingredients in a food blender and blend. The sauce should taste smoky, slightly spicy, and full of the garlic and pepper flavor. I love this sauce. Try that instead of the same boring condiments.
Directions for French Fries: What you are going to do is to "eye-ball" the amount of seasoning you put together. I do not have any measurements for you. But if you stick to your gut, I am sure that they will come out fine. I will say, only use a sprinkle of sugar to off-set that salt. A bit of cumin too. That is a very strong seasoning and you don't want to add as much as you do everything else because it will taste like Mexican or Indian fries, unless that is what you are going for.
Put your oil in a pan or deep fryer to about 350 degrees. While your oil is getting hot, begin to slice your potatoes long. You can cut them to look like steak fries or regular French fries. Whatever your preference.
Toss the fries in the seasoning for an even coat and place the fries in the hot oil. Cook for about 5-6 minutes or until as crispy as you like them.
Eat them while their hot!