In Cincinnati, there are several local delicacies such as Grater's Ice Cream, Skiline Chili, Goldstar Chili, Chess Pie, and Taste of Belgium Waffles. I am sure that there are several others that I am not aware of, but out of the ones that I mentioned, there are only two that I love and appreciate and it isn't soup with mystery meat seasoned with chocolate and cinnamon called chili, and it isn't a pie with eggs and sugar. I do love Grater's but the Taste of Belgium Waffles is now one of my favorite foods and the one thing that I would take with me if and when I move cities.
The first time I had one of these waffles I was at my church, Crossroads, and they were having a fundraiser event. Before I ate one of these rare delicious delicacies, everyone in the atrium was in a trance and the room was filled with one big noise of oh's and ah's.  People were clawing at one another and biting at each others hand that held the food gold, just to get another bite or at least a whiff. It was like the atrium was transformed into the Pride lands in Africa and we were all lions and lionesses and the waffles represented pieces of zebra, antelope, and giraffes. That's how good these things were! Back to reality, my friends were eating these waffles and they didn't look all that appeasing to me. In fact, they looked hard and dry and I couldn't see what the big deal was. In an effort of getting out of my way, I tried one. Heck, it was free. As I bit into the waffle, at first I noticed that the texture was  hard and crunchy and it took me about 2 seconds to really have the Belgium Waffle Experience and then it hit me! The crunchiness was this wonderful combination of crunchy sugar and caramelized caramel and the dough was a little hard but it was soft and it melted in your mouth all at the same time. It is unlike any waffle that I ever had and I love Belgian waffles.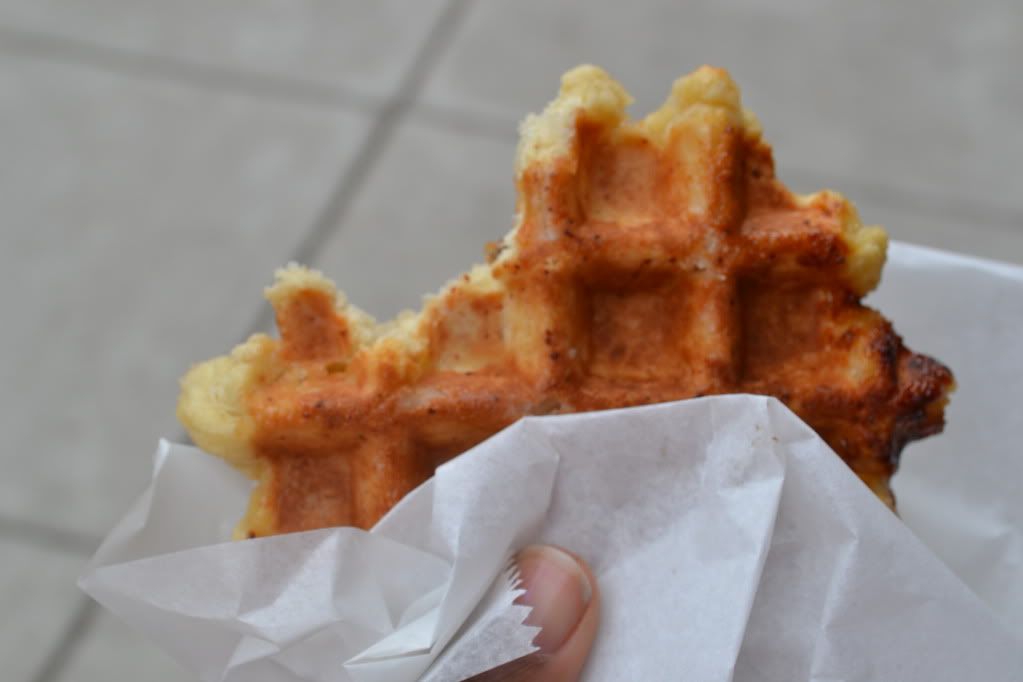 In an effort to try to mimic this recipe, which I have decided not to do, I browsed the net for some sort recipe for me to try. During my research, I found some additional information that was quite interesting to me that I thought I would share.
The Liege waffle derives from eastern Belgium. This waffle is nothing like an American or Belgian waffle that is usually fluffier, lighter and less dense. These waffles are the exact opposite. They are dense, richer, and sweeter than an ordinary waffle. The waffles were an adaptation of brioche bread dough and pearl sugar that caramelizes once it begins to bake. These waffles are often seen as a snack that is typically sold at street vendors and bakeries across the nation.
I believe, this is why this recipe is difficult to duplicate and should be left to the professionals that holds the secret to making our bellies happy. In fact, I went to the Taste of Belgium restaurant for the first time a few weeks ago and if it was up to me, the time would have been stretched out longer than the time I was there, so I can preserve the taste and experience of eating at that cute café. When you walk in, it makes you feel as if you were in France or, perhaps, Belgium. There is smooth blend of smooth jazz, neo-soul, and Sinatra music playing in the background. There is a case full of wonderful desserts from whoopee, muffins, and Belgium Danishes that calls your name. The service is wonderful! I sat at the bar, although I wish I would have gotten his name, the bartender was very patient with me and displayed the confidence that whatever I choose to eat on the menu would be great!  I was encouraged to try the Chicken and Waffles. So, I did. Oooohhh, how I love the Chicken and Waffles at the Taste of the Belgium. You are served a nice size piece of chicken that has been breaded in some sort of seasoned flour and glazed with a hot sauce. The chicken is so moist and flavored throughout that partnered with the waffle, gives a perfect balance of sweet and salty, and rich and savory. If you go, get it!
The second time I went I tried their Southwest Turkey Sandwich, which was very interesting to me because the bread was the waffle! It was hard for me to think how a turkey sandwich would taste with the waffle as the bread. In any case, I went for it and was delightfully surprised. Again, the perfect combination of rich and savory. My best friend went with me and she tried the chicken and waffles but also ordered a side of the Brussel Sprouts. Let me say, I do not like brussel sprouts, but I like the Taste of Belgium's brussel sprouts. They are made with bacon, garlic, and onions.  The combination of those ingredients will make any one that does not like brussel sprouts…love them!
I could go on and on about my experience at the Taste of Belgium, but the best thing I can tell you is to go try it for yourself. Even if you do not care for the waffles, go anyway! They have a pretty good menu that has different dishes such as Crunchy Couscous, Fruit Waffle, and a variety of specialty crepes! Let me know what you think once you go.
Taste of Belgium
Corner of 12th & Vine in OTR (Over The Rhine)