So, last week while I was at work, a wonderful idea came to me. I'm talking the mother of all dessert ideas. Something that is so simple, so logical that I was wondering, "Why haven't I thought about this before?" In most desserts, I love the a la mode combination.  My favorite types of al la modes are with brownies and cookies. Ahh, the slight crunchiness of the crust, the gooey chocolate in the middle, and the hot and cold combination of the ice cream and the dessert. It's a wonderfu,l sugary,  trifecta!  That is when it hit me! Why not combine all three?! Brownie, Cookie, and Ice Cream. And that is how I came up with the Brookie!
Now, thinking that I have created a "Nicole original", my ego was immediately crushed when I was told by a friend that she too made a Brookie  from another Blog, which is also one of my favorites, Bakingdom.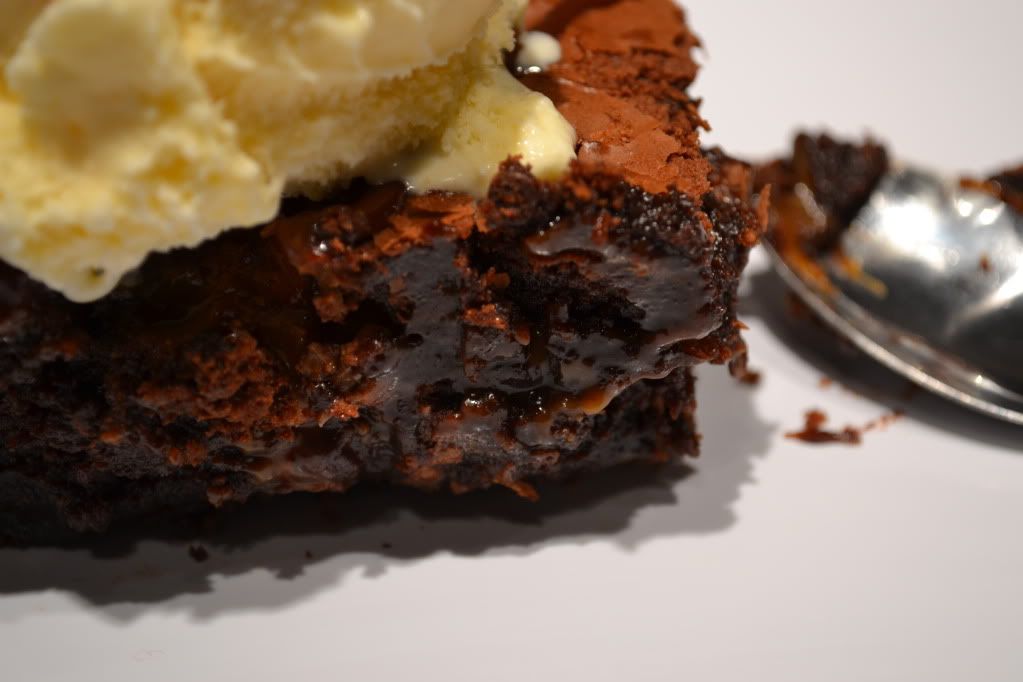 In an effort to be somewhat original, I created my own type of Brookie.  I was thinking,  everyone enjoys Turtle Brownies, right?  SO why not make Chocolatey Turtle Brookies?! Oh, the chocolate, the pecans, and the caramel. I swear as I am typing this,  the picture that you can see toward your left is moving. But that could be because I am on a juice fast, which I do not know how long is going to last. But back to the situation at hand, oh the chocolate, the caramel….Oh…I said all of that already. It's just good! You have to try this.
Okay, before you start pre-heating your oven and getting out your flour, let me tell you, that there are many steps to this dish. So, it is important that you clean as you go. I am just as eager for you to try this recipe, but you have to mentally prepare your self that there are a few steps to making this incredible deliciousness.
Serve with vanilla ice cream! I'm telling you…this is amazing!
Print
Chocolatey Turtle Brookies
---
16.5 oz

. tube chocolate chip cookie dough

19 oz

. Duncan Hines Dark Chocolate Brownie Mix

1

egg

1/3

c. water

1/3

c. oil

14 oz

. bag of caramels

3 tbsp

. heavy cream

1

c. pecans, separated
---
Instructions
Preheat oven to 35 Degrees: Take greased 9 inch square pan and press the cookie dough at the bottom of the pan making a crust. Bake for 10-12 minutes.
While the cookie dough is baking and the aroma fills the air, prepare your brownie batter as it is detailed on the box.
Melt the caramels and heavy cream in the microwave checking and stirring every 30 seconds, set aside. Once your cookie dough is complete, allow to cool for about 5 minutes and then pour half of your brownie mixture on top of the warm cookie dough. Spread evenly. Make dollops of the melted caramel sauce on top of the first layer of brownie and sprinkle half of the pecans. Pour the remaining brownie mixture on top of the first layer of caramel and pecans (if it's too much caramel you don't have to use the rest of the sauce). Sprinkle the remaining caramel and pecans on top of the final brownie mixture. Bake for 20-25 minutes. Allow to cool and set before serving. Will be hot and gooey!