Last week I gave you plenty of dessert options and although I do enjoy baking  more than cooking, please don't mistake me when I say "a "sista" can throw down"! You name it, I probably have made it before or will give it my best. I take that back. If you ask me to make any French cuisine or any other exotic cuisine, I will probably back out simply because of the complexity or I don't want the smell of the spices lingering in my loft. Have you ever tried to get the smell of curry out of your house? It's hard man. Anyway,  I can  really cook. It has always been a personal mission of mine to have a bunch of boys, they go to college, and rant and rave to their friends about how their mom can throw down and they come home every Sunday just to eat my food and stock up on left overs for the week. I want my boys to love my cooking to the point that the women they'll marry will secretly hate me because they can't make collard greens or cornbread as good as I can. Well, at least they will have something to shoot for.
This dish that I have created (yes this is a Brown Sugar original) was inspired by….nothing. I felt like eating thin and crunchy chicken with a white sauce. And as you can see in the picture the chicken cutlets are on a bed of fresh mashed potatoes, which I will include the recipe for if you want to make them as well. I like dishes that have a slight crunch. It adds texture and make the dish more fun to eat. That does not apply to every meal, just a few. I urge you to get creative and think were you can add a crunchy texture in your next meal. It just makes everything so much better. This dinner is perfect for one person or two people and it is really simple. Do not get intimidated by the sauce. I promise that it will be great. You can use this sauce for fish or even baked chicken if you decided that you want to do that instead of pan frying the chicken. I added basil and lemon simply because I love the two flavors and joined it just makes it better. If you try this dish come back and let me know how you like it and your own creative spin that you added to it.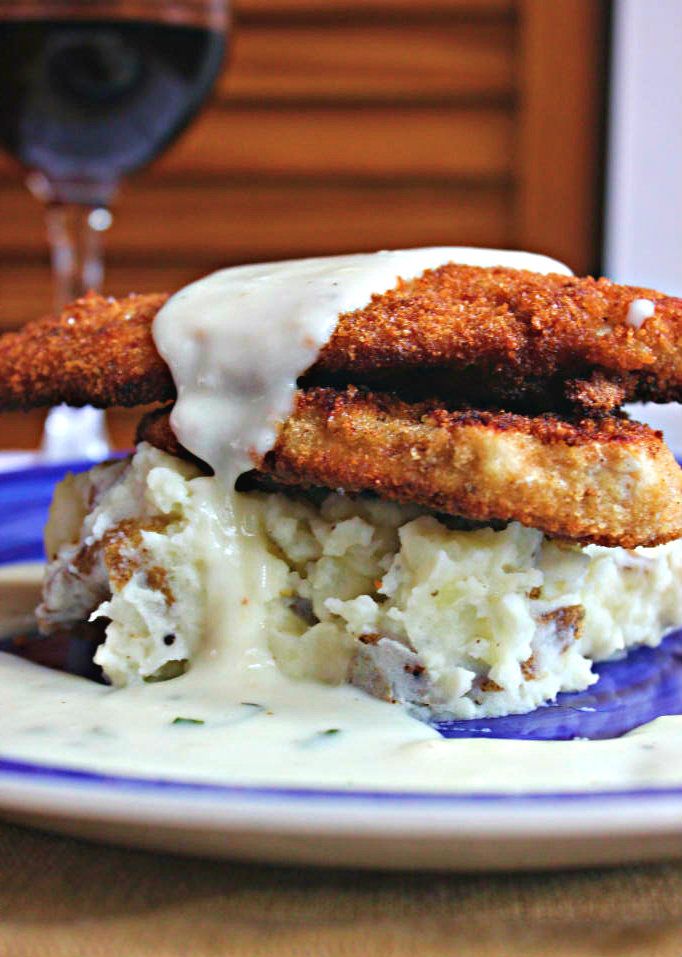 Pan Seared Chicken Cutlets & Lemon Basil White Sauce
---
FOR THE CHICKEN:

4

whole Skinless, Boneless Chicken Breast

1

–

½

cup Bread Crumbs

2

whole Eggs, Beaten
Salt And Pepper, For Seasoning

1

whole Fresh Lemon

⅛ cups

Olive Oil, More May Be Needed
FOR THE WHITE SAUCE:

2

–

½

Tablespoons Butter

¼ cups

Flour

2 cups

Milk

2 Tablespoons

Lemon Juice

4

whole Fresh Basil Leaves, Finely Chopped
FOR THE MASHED POTATOES:

2

whole Large Russet Potatoes

4

cloves Garlic

2 Tablespoons

Rosemary Leaves

¾ cups

Heavy Cream

2 Tablespoons

Butter
---
Instructions
For the chicken:
Place the chicken in a Ziploc plastic bag or between two sheets of plastic wrap. With a rolling pin or a meat tenderizing hammer, beat the chicken until it becomes thin. You don't want to beat the chicken until it is so flat that it falls apart. Set the chicken aside in a bowl and season on both sides with salt and pepper. Take half of the lemon and squeeze the juice on both sides of the chicken breast.
Put your bread crumbs in a shallow bowl or a plate and set aside. In a medium bowl, add the beaten eggs. Your eggs should be beaten until you can no longer distinguish the yolk from the whites. Dip the chicken breast in the eggs until it is evenly coated. Then put them into the bread crumbs. The bread crumbs should completely cover the chicken breasts on both sides.
Take a medium sized pan and turn the heat on medium high and add the olive oil. You may need to add more olive oil later. Once your pan is hot and your chicken is coated in the bread crumbs, place the chicken in the pan and let it sear on both sides for about 4 minutes pre side. Remove the cooked chicken from the pan onto a paper towel lined plate and repeat with the remaining chicken if you didn't cook it all at once. Once all of the chicken is done, set it aside.
For the sauce:
To make the sauce take a medium sized pot and melt the butter on low to medium heat. Once the butter has melted, slowly add the flour while whisking at the same time. This will make a roux for the sauce and should look light yellow. As soon as the roux turns a light yellow color, slowly add the milk and whisk at the same time to avoid lumps forming. Once all the milk is added continue to stir the sauce. It will become thick and when it does turn the heat down to a simmering heat.
Add the lemon juice, fresh basil, and season with salt and pepper to taste. Keep sauce warm.
For the mashed potatoes:
Bring a pot of water to a boil (with enough water to cover the potatoes). Dice the potatoes, add them to the boiling water and cook until the the potatoes are soft. This should take about 15 minutes. Drain the water from the potatoes and mash the potatoes with a potato masher. Pour in the cream or milk and stir until mixed. Grate the garlic cloves with a handheld grater and add it into the potatoes. Add the rosemary leaves, butter, and season with salt and pepper. Mix to combine.
Plate the chicken with the potatoes and pour some of the sauce on the chicken and enjoy!