In case you were wondering, I do have the ability to cook healthy foods. I just don't like cooking those dishes that often because its boring. Nevertheless, I do eat healthy and find it a challenge to make healthy foods enjoyable. Speaking of eating healthy, I love beans! I love bean dip, black eyed peas, pinto beans, and chick peas. You name a dish that consists of majority beans, chances are, I will probably enjoy it. In fact, I was craving something with beans in it the other day, but with the hot weather, I didn't want to make hot beans. Soooooo, I made a three bean salad. Now, before you turn up your noses at this salad, let me tell you that it is healthy and satisfying. Not to mention it is also vegan! I suppose you could add some whole wheat pasta as well (just a thought). Also, you can interchange some of the beans to your preference.  If you are trying to establish a healthy life style, make this salad for your next picnic or potluck instead of pasta or macaroni salad that is douse in mayo and packs on the calories.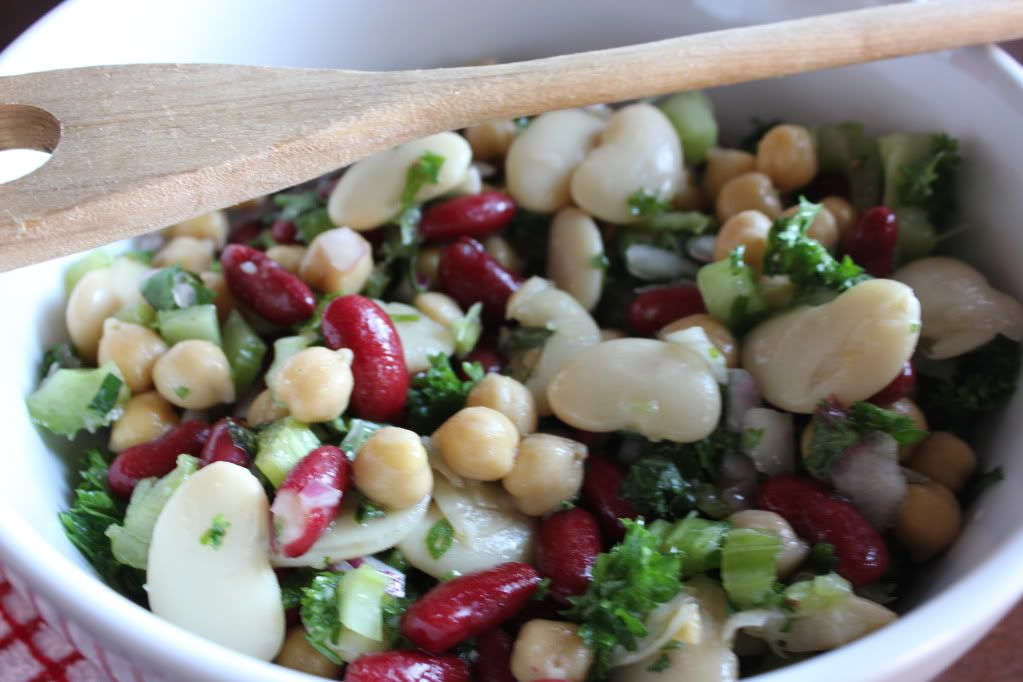 Ingredients

1

–

15

oz. can chick peas

1

–

15

oz. can red kidney beans

1

–

15

oz. can butter beans

2

stalks celery chopped

1/2 cup

chopped red onion
bunch of freshly chopped parsley
bunch freshly chopped dandelion greens (optional)
Vinaigrette

1/3

c. apple cider vinegar

1/3

c. sugar

1/4

c. olive oil
splash of lemon juice
salt and pepper to taste
---
Instructions
Open all cans of beans, pour them in a strainer, and rinse. Once the beans have been rinsed, transfer the beans to a large bowl. Add the celery, red onion, parsley, and dandelion greens (optional). In a separate bowl, add all the ingredients for the vinaigrette and whisk together. Pour the dressing over the bean salad and toss. Refrigerate for several hours until chilled and enjoy!