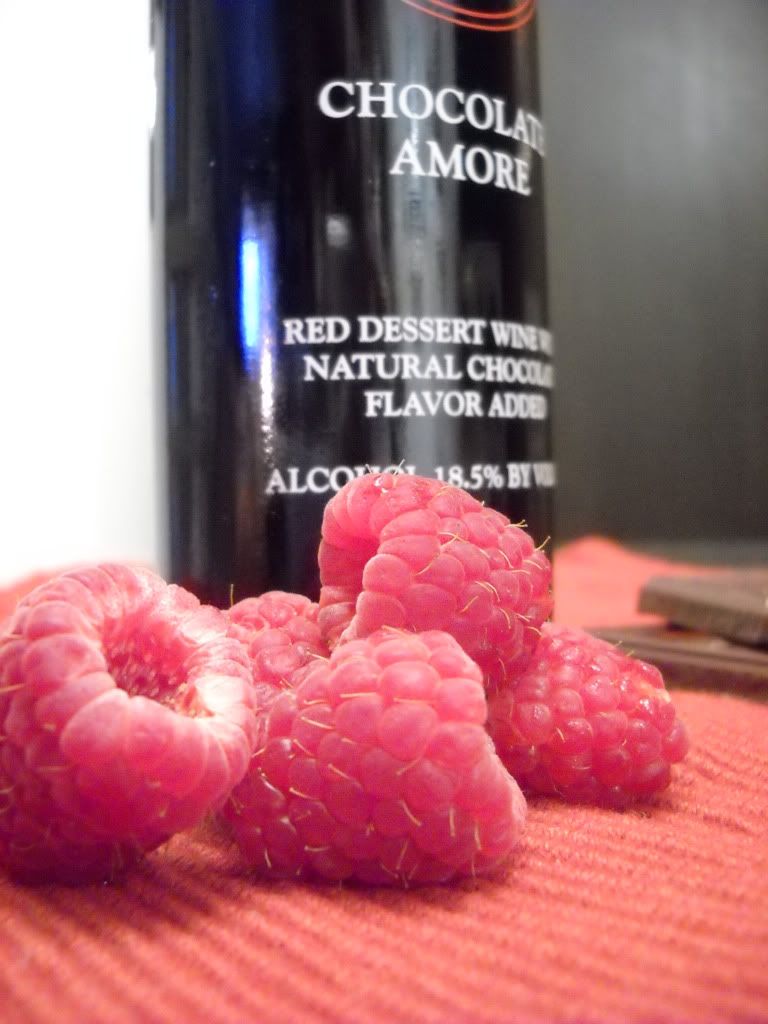 Trentadue Chocolate Amore is a dessert wine; otherwise known as a port. Ports are sweeter than most regular wines and are suggested to drink alongside desserts or fruit. I am still trying to get to know about wines and ports. One day I plan to be a wine expert. If only I can get past the taste of red wine, I think I will be okay. Whenever I try it, I always think "Who in the heck likes this stuff?". I was told that I have to continue to introduce my taste palette to wines so I can get use to it. Anyway,  Trentadue Chocolate Amore port  was introduced to me by a friend of mine who brought it over for a casual gathering that I was having at my apartment. That was when I fell in love with this drink. So we had vanilla bean ice-cream, cut strawberries, and Delche De Leche Brownies and poured some of the port over this already sugar-high dessert and God opened up the heavens and said to me, "Nicole, use this in your next cupcake recipe!' So I did. I am not that big of a fan of chocolate mixed with fruit type desserts, in some cases, but I do think that raspberries and strawberries complement chocolate very well. I made a wonderful, moist, and rich Chocolate Raspberry cupcake adding the Chocolate Amore for the added flavor. This is what I call my "Sexy Dessert". It is very romantic, in my opinion. Enjoy!
Trentadue Chocolate Raspberry Cupcakes
---
Ingredients for Chocolate Cupcakes

2 cups

sugar

1 3/4 cups

all-purpose flour

3/4 cup

Dutch Cocoa or Hershey Cocoa

1 1/2 teaspoon

baking powder

1 1/2 teaspoon

baking soda

1 teaspoon

salt

2

eggs

1 cup

milk (room temperature)

1/2

vegetable oil

2 teaspoons

vanilla extract

1 1/2 teaspoon

raspberry extract

1

4 oz. bar Ghirardelli Baking Chocolate: 60%Caco Bittersweet (you could use milk chocolate if you want)

1 cup

boiling water or coffee

1/4 cup

Trentadue Chocolate Amore or another chocolate liquor or port(optional)
Ingredients for Chocolate Ganache

9 oz

chopped bittersweet chocolate

1 cup

heavy whipping cream

1 teaspoon

raspberry extract
Ingredients for Raspberry Buttercream

3 Cups

Powdered Sugar

1

stick unsalted butter (room temperature)

1

to

2

tablespoons whipping cream

1 teaspoon

vanilla extract

1teaspoon

raspberry extract

1/4 cup

crushed raspberries
---
Instructions
INSTRUCTIONS FOR CUPCAKES
Preheat your oven to 350 degrees
In a bowl, whisk together all of your dry ingredients
In a separate bowl, add your eggs, milk, and oil and beat on low until well incorporated.
Add your dry ingredients, to your wet ingredients little by little.
Melt the chocolate and add into the mixture.
Add your extracts, Chocolate Amore, and mix well.
Lastly, add the boiling water or coffee into the mixture and mix well. The batter will be thin.
Fill your cupcake tins about 2/3 of the way and bake for 15-17 minutes.
INSTRUCTIONS FOR GANACHE
Heat up your cream by adding it into a saucer on the stove and put your burner on medium heat.
NOTE: If you are not careful, your cream will over boil causing a mess on your stove so be careful.
Once your whipping cream is pretty hot, in the bowl where your chocolate should be, pour the whipping cream over the chocolate.
With a spoon, you want to stir until the chocolate is completely dissolved and there are no clumps. Do not whisk because this will add air and you do not want air in the ganache.
Once the ganache is complete, add the extract and allow to cool.
INSTRUCTIONS FOR BUTTERCREAM
In a bowl, mix all the ingredients together, except the whipping cream.
Slowly add the whipping cream in the mixture until it is to the consistency that you are wanting.
Place the finished icing in a decorating bag and ice as normal.
You can layer this cupcake in any way you want. I layered mine, cupcake, ganache, icing, and a fresh raspberry for garnish. Once I did that, the extra ganache I had in my squeeze bottle, I drizzled over the top of the rest of the cupcakes.