No I am not a vegan. But I do have a great appreciation for the lifestyle. I have a few friends who are vegetarian and vegan whom have rubbed off on me in a serious way. But I can share with you my journey on how I began to like vegetarian and vegan meals.
It all started about 2 years ago, I think, when I got really serious about losing weight. I was trying this diet called "The Fat Smash Diet". Have you heard of it? Anyway, this diet is divided  into 4 phases, I think. The first phase you are practically a vegan for about 2 weeks. You can't eat anything containing sugar, juice, nothing with flour, meat, bread, pasta, not even diet soda. Only food from the earth. Needless to say, I was mad. I think I had an attitude for about 3 days straight. I was hungry. I didn't know what to eat. I got tired of eat black bean tacos. I was just losing my mind. But something changed during that detox phase and the rest of that diet. My taste buds changed. When I did try  unhealthy foods, sweets were way to sweet and meat was something that I no longer found a craving for (although now and then I do crave a fat burger or a steak).
So I got more creative in the dishes that I would make. My vegan and vegetarian friends would invite me over to dinner, share recipes with me, give me suggestions, and gave me helpful tips that would help make the meals taste better. Before I knew it I was eating, at least, one vegan or vegetarian meal a week without me knowing, simply because I felt great afterward.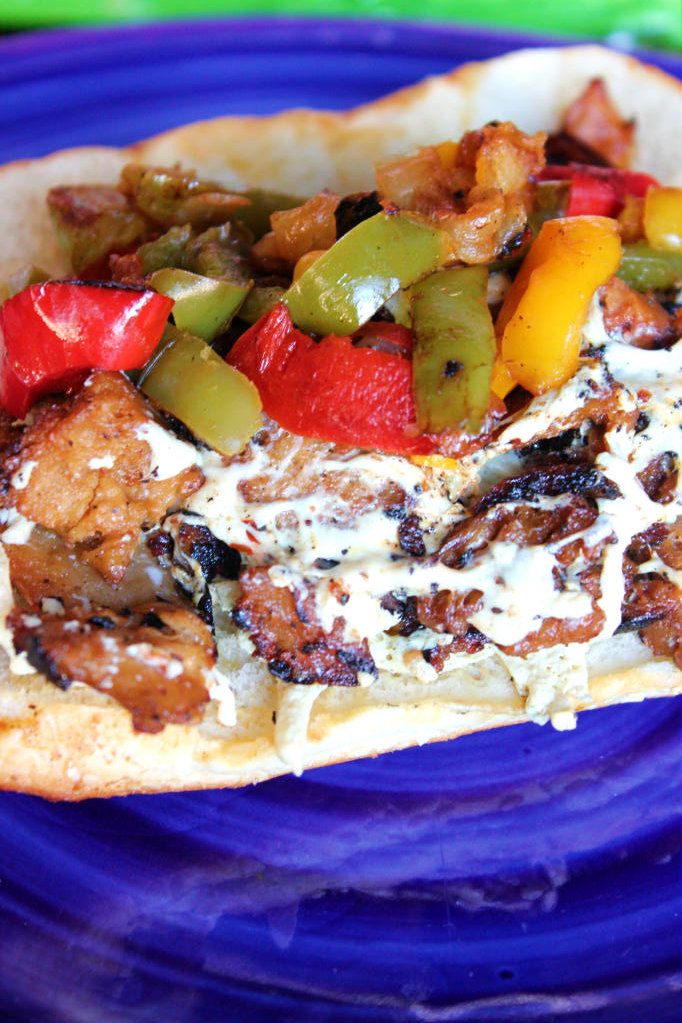 You are probably wondering if I am a vegetarian or vegan, right? The answer is no. I am not. I am a happy eating omnivore. Although, I have significantly decreased the mount of red meat I eat and if you were to look in my refrigerator you will see more "meatless" products than real meat.I know that I will never be a vegan, but I have contemplated the idea of being a vegetarian on many occasions. I figure that the more I open my mind to trying these meals and make them where they actually taste good, maybe I will become a vegetarian without knowing.
Enjoy the Vegan Cheese Steak!
Vegan Cheese Steak Sandwich
---
8 oz

. package of seitan strips

3 tbsp

. olive oil

1 tbsp

. minced garlic

½

c. red peppers

½

c. green peppers

½

c. onion

½

c. orange peppers

2 tbsp

. Worcestershire sauce

1 tbsp

. liquid smoke

1 tbsp

. sea salt

1tbsp

. pepper

2 tsp

. paprika

1 tsp

. red crushed pepper

2

hoagie buns

1

c. Daiya Mozzarella vegan cheese
---
Instructions
1. In a medium sauté pan, turn the heat up on medium-high and add the olive oil. Add the seitan (you will have to break up the seitan in pieces) and cook for about 5 minutes. Consistently stir the seitan so it doesn't stick or burn. In a separate small sauce pan, drizzle about a tablespoon olive oil and add the onions, peppers, and garlic on low to medium heat.
2. Turn back to the pan with the seitan and add the Worcestershire sauce, liquid smoke, salt, pepper, paprika, and red crushed pepper. Drizzle a little bit more olive oil on the seitan and turn it down to a warm heat. Turn your oven on about 200 degrees and don't forget to check your onions and peppers.
3. Take about a cup of the Daiya cheese and sprinkle it on top of the seitan and place them in the oven for about 5 minutes so the cheese can melt. While this is happening, prepare your hoagie buns by toasting them or warming them in the microwave if you would like. Take the seitan out of the oven and place half of it on one of the buns and the other half on the other bun. Top off from sandwich with peppers and onions.